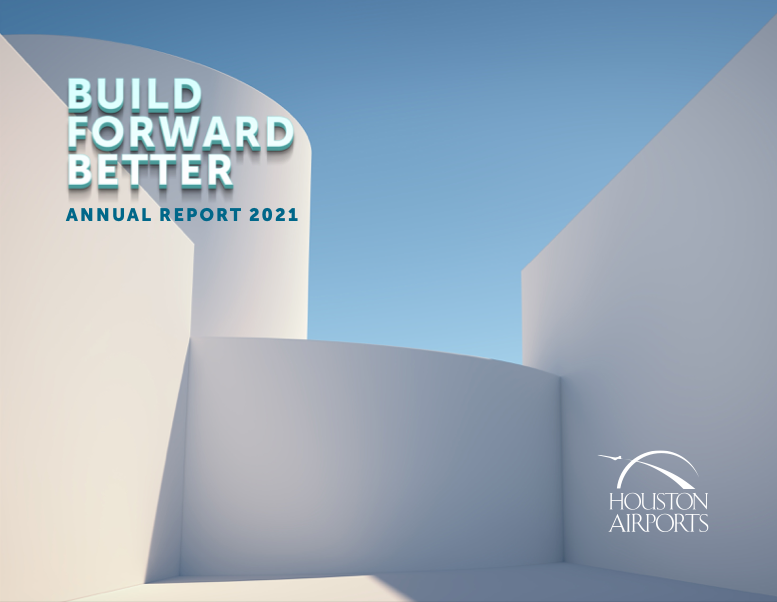 2021 was an amazing year for Houston Airports. It was a year founded in the belief that if we "Build Forward Better," positive outcomes and innovation are possible, even in the midst of global aviation challenges.
This annual report chronicles the year that followed the start of the unprecedented COVID-19 pandemic that pushed our airport system, city, economy and world to the brink.
The tenacity and resilience of Houston Airports was evident as we emphasized safety while welcoming passengers and adding destinations to our award-winning airports over the course of 12 long, but ultimately rewarding months. The exceptional qualities that make our 1,100 member Houston Airports team the best anywhere were again on full display. 
The IAH Terminal Redevelopment Program, ITRP, crossed additional milestones on its way to a 2024 delivery date. The new international terminal will transform George Bush Intercontinental Airport and further its reputation as offering one of the newest and most modern international terminals in the United States. When the dust settles, we will reveal an international gateway that will compare favorably with anyone, anywhere, anytime. 
At William P. Hobby Airport, we significantly updated the travel experiences with an exhaustive round of updates and improvements. From new play areas for children, to an interfaith chapel and SMART restrooms, we promised our passengers a 5-star experience and we delivered. 
Despite the historic and prolonged decline in passenger traffic, Houston Airports' strategic focus on safety and partnerships opened the door to a promising rebound. In 2021, Houston Airports remained focused on its four strategic priorities: making our passengers happy; acting responsibly to achieve social, environmental and economic sustainability; building platforms for future success; and investing in our partnerships and employees.
Our pledge to the citizens of Houston is this: we will continue to Build Forward Better. Our goal is that your next visit to Houston Airports will be your best visit to Houston Airports. 
The Houston Airports 2021 Annual Report is available online at the link below.