Houston Airports Provides ITRP Update and Makes Changes to Improve Traffic Flow
June 29, 2022
Supports flight operations for 15-plus foreign flag carriers and United Airlines.  
Accommodates the international airline growth and larger widebody aircraft capacity by installing additional international gates. 
Provides new and expanded public spaces significantly improving the passenger experience. 
Improves current and future roadway and curbside capacity constraints in the central terminal area. 
Vastly improves baggage handling system capacity and reliability challenges. 
Provides a wide range of additional concessions – lounges, restaurants, shops, and more. 
When it comes to the IAH Terminal Redevelopment Program (ITRP), those are some of the exciting features that Executive Program Manager Steven Andersen said will be present at Program completion in late 2024. 
On May 26, Andersen and Houston Airports Chief Operating Officer Jim Szczesniak provided a comprehensive program update to the Houston City Council Economic Development Committee.  
The ITRP, the largest capital improvement program in the history of Houston Airports, is well into construction and the program end promises those upgrades and improvements, along with more, that ensure George Bush Intercontinental Airport will be home to facilities that will be counted among the best in the world. Prior to ITRP, minor cosmetic improvements had been made to Terminal D, which serviced international flights since its opening in 1990, while the passenger traffic has almost quadrupled in those two-decades-plus (prior to the COVID-19 pandemic).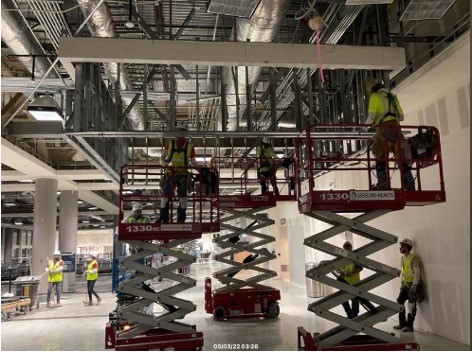 Szczesniak called the ITRP an "exciting piece of infrastructure that we're building for the future of Houston." He noted that Houston Airports is responsible for $36 billion a year in annual economic activity to the Houston region, plus 190,000 jobs. In 2019, the year prior to COVID, Houston Airports welcomed nearly 60 million passengers, numbers that today continue to steadily climb back to those pre-COVID levels. 
Andersen then delved into the specifics of the program before a highly attentive live and virtual council assembly that included committee Chair Martha Castex-Tatum, Mayor Pro Tem Dave Martin, City Council members Amy Peck, Abby Kamin, David Robinson, and Michael Kubosh. Council Members' staff from Kamin's and Letitia Plummer's offices were also in attendance. 
Andersen first provided a brief overview of the program and updated the committee on the construction progress to date. He also alerted them to upcoming Council actions. 
Changes Implemented to Improve Traffic Flow 
In early June, Andersen reported on Houston Airports' ongoing efforts to mitigate traffic delays experienced during evening peak periods at Bush Airport (5 p.m.- 8 p.m.). The traffic challenges result from the investment of over a billion dollars in major construction on the International Terminal expansion along with ongoing major construction projects from partners, all occurring within a fully operational airport facility.  
Improvements Designed to Reduce Congestion 
Effective June 6, the temporary bus shuttle service supporting the passenger experience ceased operation. This allowed for increased curb length for private vehicles and rideshare services for arriving international passengers. The bus service was started as an option while the essential elevator upgrades were formed in the Terminal E international arrivals.  
The June 6 change also allowed for an additional roadway lane on South Terminal Road, thereby allowing for improved vehicle movement and airport exit, improving the overall roadway network.  
In mid-June, additional roadway capacity and terminal traffic separation measures were implemented at the east entrance to the Central Terminal Area. Two lanes were dedicated for Terminal C departures and arrivals, two lanes for Terminal D departures and an additional lane serves as a bypass for vehicles heading toward Terminal E international arrivals. These adjustments have improved merge points and traffic loads for arriving and departing passengers.  
On July 1, the temporary detour for the Terminal C departures ramp will be replaced with the reopening of the original departures ramp, allowing for improved traffic flow and exit of the Central Terminal Area. 
On July 15, further South Terminal Road modifications will take effect, removing another temporary detour and allowing for a more seamless traffic flow and exit from the Central Terminal Area. The improvement will reduce pinch points and improve the overall traffic flow and exit. 
On Nov. 1, construction under United Airlines' Early Bag Storage building will be completed and the original lane capacity restored on South Terminal Road. 
It is important to note that even as these measures improve conditions, with the growth in airline traffic, significant vehicle traffic is still likely during peak flight operation times. To manage expectations, passengers are advised to continue to prepare and carefully plan their trip to Bush Airport.  
"The new international terminal complex will accommodate operations for United Airlines international service as well as 15+ foreign flag airlines. New gates will be sufficient for international growth from increasing local and traveling passenger demand and meet the needs of air carriers' increase in flights," Andersen said.  
Advancement of ITRP 
The ITRP started in 2015 with a series of enabling projects and advanced significantly in 2020 with the closing of the Terminal D/E parking garage for demolition in order to make room for the expansion of the Mickey Leland International Terminal (MLIT) with a new International Central Processor. Once complete, the central processor will house ticketing counters, baggage claims and a 17-lane security checkpoint that will be one of the largest in the country. Attached to MLIT will be a new concourse and a fully renovated Terminal D, with updated facilities where travelers can board their planes, relax in the many lounges, or explore dining vendors. 

Upcoming Appropriations and Council Comments 
Upcoming appropriations to go before the City Council include funding requests for several contractors, funding for the Program Management Support Services organizations that serve the ITRP, and more. 
After the May 26 presentation, Castex-Tatum commented. 
"This is such a massive project that it's really good for us to have these updates periodically to keep it on our minds. I was at the airport a couple of weeks ago and just seeing the massive amounts of construction but knowing what is to come..." she said.  
"It's kind of bad right now but it's going to be amazing when it's done. This is very encouraging." 
Closing Comments from COO 
"We are being very proactive in taking all possible measures to minimize the congestion and any inconveniences to our guests. We understand the challenges for our guests today. Building in a live operational environment within the confines of a large, bustling airport is not easy," Szczesniak said. 
"What I can say with all certainty is that the finished product, the completed terminal, will be absolutely transformative for both Houston Airports and for the City of Houston. This work is being done with our travelers in mind, and the experience for our international guests is going to be better than ever. The new terminal will not only be spacious and reflective of the best of Houston, but it will be a case study in efficiency from curb to gate."