Houston Airports Intern Returns and Continues to Pursue Passions for Aviation and Architecture
June 28, 2022
Eduardo Terrazas, a Houston Airports (HAS) intern, recognizes that unlimited potential and great achievement can emerge from humble beginnings. 
In 2018, as a high school sophomore at Ross Shaw Sterling Aviation High School, better known as Sterling Aviation High School, Terrazas joined the HAS Aviation Club, which consisted of 35 students. It was there at the club that he began a working relationship with HAS that continues to this day. 
At the Aviation Club, his ambition began taking root as he managed a design group project for HAS during his senior year. Now, as a promising undergraduate at the University of Texas at Austin (UT Austin), with a school enrollment of more than 51,000 students, Terrazas continues to stay in touch with Harry Singh, HAS Aviation Club Project Manager, and other HAS mentors.  
And he's now here as a Building Standards and Infrastructure Architecture Intern for a second summer, working underneath the tutelage of Guillermo Cabrera, AIA, Assistant Director, Building Standards Group. Terrazas served as a summer intern at HAS in 2019, working in Management and Operations at William P. Hobby Airport (HOU) with Sarah Freddie, Management Administrator. There, he filed and organized HOU infrastructure project records. He also sketched and mapped network server rooms within the IT department; further, he attended meetings on infrastructure planning, demolition, and airline status in the Management and Airside Operations Department.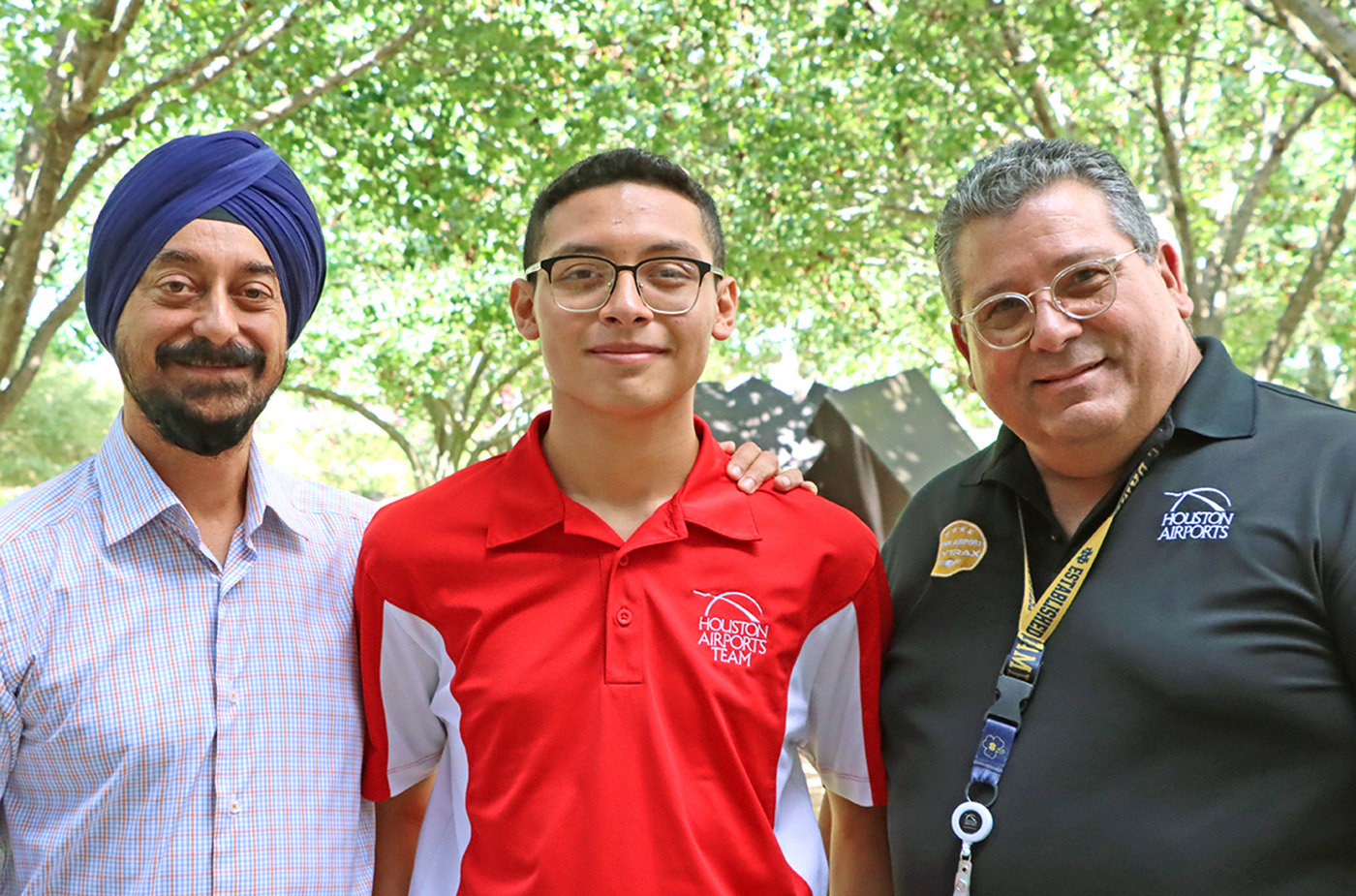 "I have always been passionate about aviation and architecture," Terrazas said. "I never thought I could combine both passions. So, I decided that all I wanted to become was a pilot for United. I then realized that there are so many different jobs in the aviation sector that people don't think of. Being in [the Aviation Cub] at my high school is what revived my architecture passion and gave me the final push to get into the field of airport design."  
Terrazas said that he "gained experience through the club's project and my internship at Hobby." After he graduated from high school, Terrazas started working for an airline.  
"People ask me why do I not want to be an engineer and my answer to that is because I want to be involved in the field through design," Terrazas said.   
In 2022, as an architecture student at UT Austin, Terrazas poured his efforts into two primary projects. His efforts paid off as he received the Presidential Award for Global Learning to conduct research in the Galapagos Islands. He came up with a proposal to create a circular economy within the Islands' water system.  
He also utilized his past experiences and knowledge to work on designing a sustainable airport of 2050 for NASA's Gateway to Blue Skies Sustainable Airport of 2050 competition. His team was chosen as one of eight finalists to present before NASA in Hampton, Virginia, in May 2022 and won best presentation. Additionally, he has begun work on an exhibition at the 1940s Air Terminal Museum showcasing the importance of Houston through its worldwide airline service. 
When considering his future, Terrazas acknowledges that so many successful CEOs rose from humble beginnings to lead iconic organizations.  
"I don't know if CEO in my future," he continued, "but I am open-minded and recognize that whatever goal I set for myself is attainable if I'm willing to work hard and persevere to achieve it."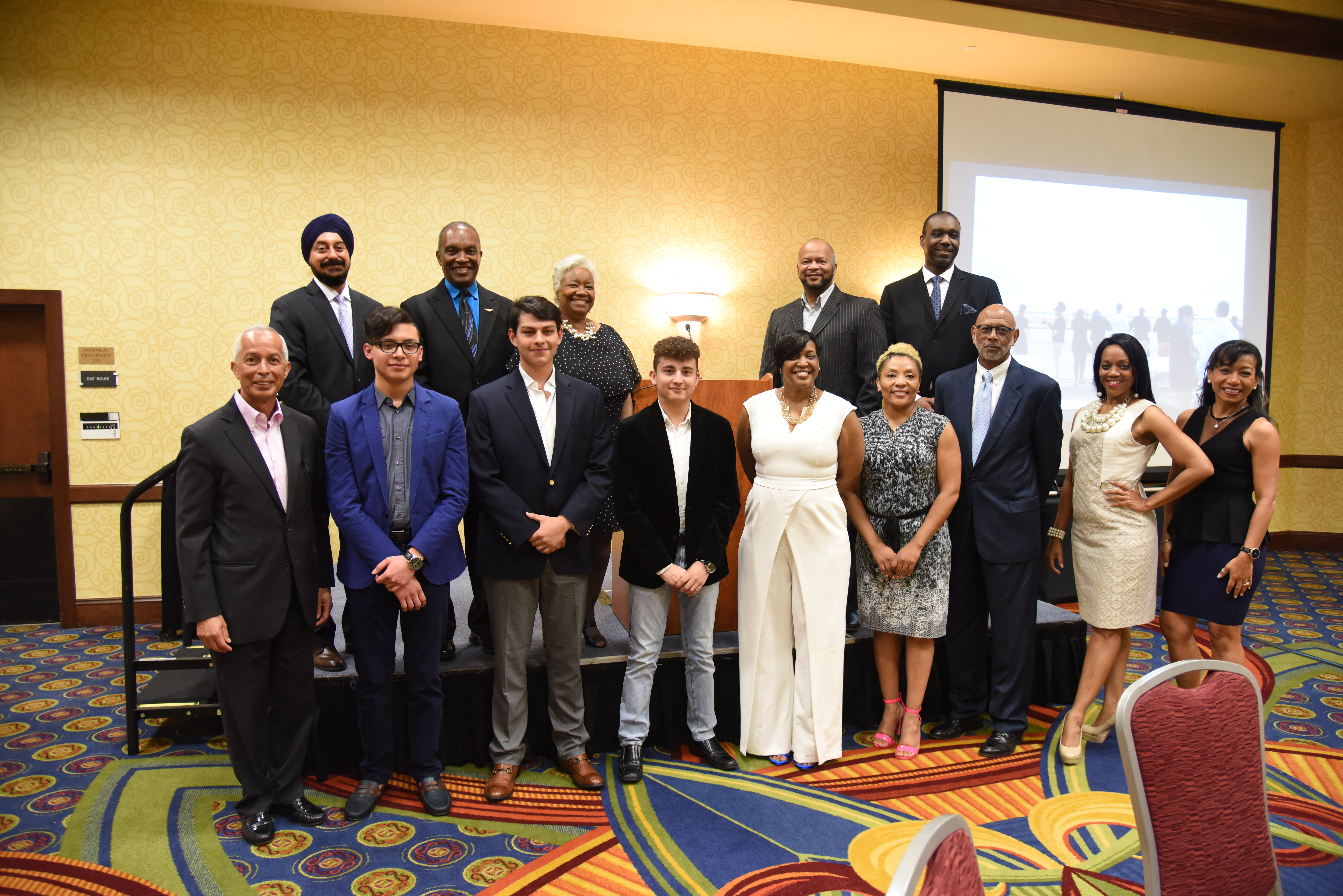 He is on course to graduate from UT Austin in May 2026. He's pursuing a double major that will allow him to graduate with a Bachelor of Arts in Urban Studies and a bachelor's degree in Architecture. 
"So much of what I have learned at Houston Airports has already served me well, in terms of both soft and curriculum-based skills. Communication, teamwork, a goal-oriented mindset, and personal development have all been key for me," Terrazas said. "No matter where my career path takes me, I will always owe a debt of great gratitude to Houston Airports for all the organization has done for me, from my high school aviation club days to the present time. I see HAS as a second home, knowing that I am always welcomed here. Who knows - maybe I will work here in the future." 
Aviation Club History 
Founded in 2012 to help high school students enter aviation and aerospace careers, the HAS Aviation Club currently sponsors one HISD high school, Sterling Aviation High School. They meet monthly to participate in learning, enrichment and mentoring activities. 
The Aviation Club is a Houston-based initiative that began from the vision of HAS Director Mario Diaz. His vision was to propel new generations toward careers in aerospace and aviation, and the vision continues to be realized each succeeding year. Dozens of young men and women like Terrazas have benefited and are well on their way to high-flying careers. 
Diaz believes that Houston's "Space City" legacy will continue if we plant enough seeds in the hearts and minds of our young people. "As a teenager," he says, "I became fascinated with aviation, and I enjoyed the journey I experienced as first a pilot and later an executive for airports in three major U.S. cities. My dream is to create a Houston-based initiative geared to fostering the passion for flying in the next generation of aviators and space pioneers."