Traffic Alert: Necessary utility work forcing temporary lane closures at Bush Airport
Houston Airports urges travelers to plan accordingly as lane closures on North Terminal Road will impact traffic congestion beginning Oct. 10 
October 4, 2022
HOUSTON – The current construction phase of the new international terminal at George Bush Intercontinental Airport requires CenterPoint Energy to relocate and install crucial electrical infrastructure in support of the new international terminal. The necessary utility work is critical to providing power to Terminal D, a new checked baggage inspection facility and the inter-terminal tram system.  
This work is complex and requires significant underground coordination and navigation to avoid utilities and obstructions.    
Beginning October 10, travelers will experience temporary lane closures along North Terminal Road, which leads to Terminals C, D and E. The lane closures will be in place for approximately four weeks.  
The temporary lane closures may impact traffic congestion, specifically during afternoon peak travel times between 5 p.m. and 8 p.m.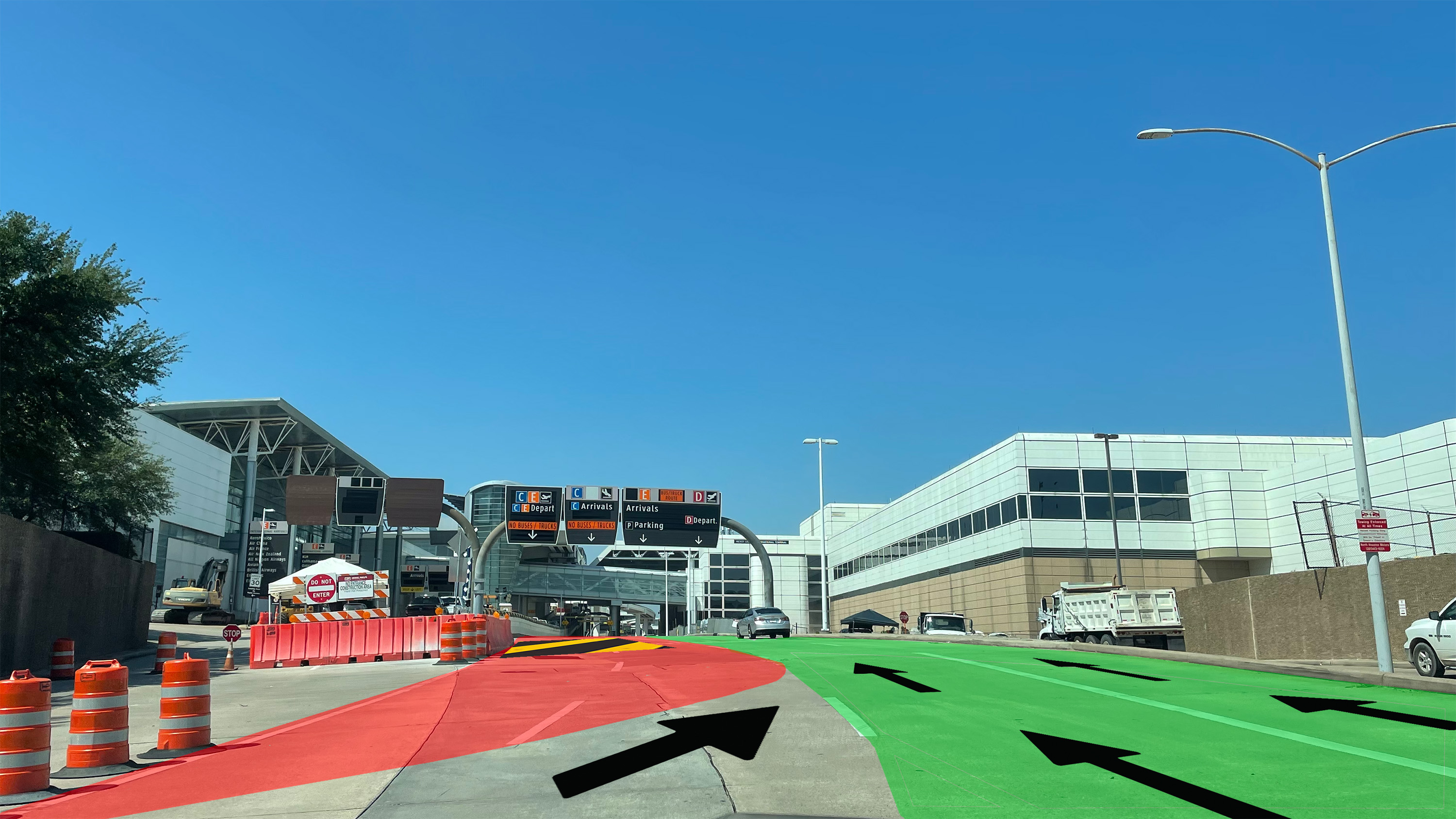 Because the passenger experience is our priority, Houston Airports utilized successful traffic simulations, extensive roadway modeling and real-time testing days before the project began.  
Active traffic monitoring and curbside management will continue at Bush Airport. Additional police officers will also be on-site as part of the CenterPoint traffic control plan.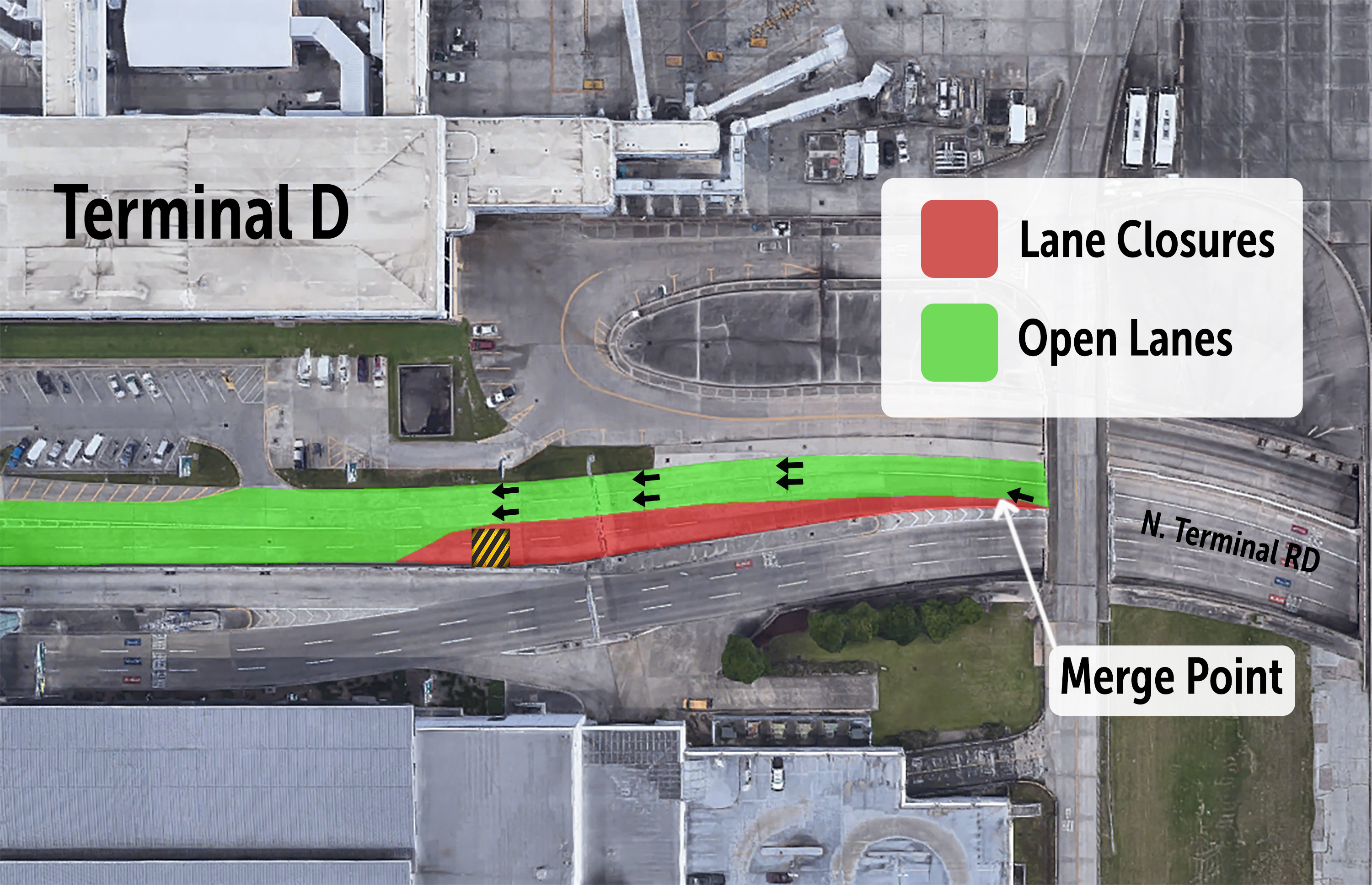 Houston Airports recommends people prepare for their trip to Bush Airport by planning ahead and utilizing resources like reserving garage parking online, waiting in cellphone lots until an arriving passenger is curbside and building an extra hour into your usual arrival time should you arrive during peak travel hours. You can find a complete list of travel recommendations here. 
The ongoing construction at Bush Airport is part of the IAH Terminal Redevelopment Program, ITRP. Once substantially completed in late 2024, Bush Airport will be home to one of the newest and most modern international terminals in the U.S.  
Media Available for Download:
Renderings of some concession offerings 
Renderings of the new international terminal at IAH
Animated Renderings of new international terminal at IAH 
ABOUT THE NEW INTERNATIONAL TERMINAL AT IAH
The construction of the international terminal at Bush Airport, formally known as the IAH Terminal Redevelopment Program, ITRP, started in 2015 with a series of enabling projects. It advanced significantly in 2020 with the closing of the Terminal D/E parking garage for demolition in order to make room for the expansion of the Mickey Leland International Terminal (MLIT) with a new International Central Processor. Once complete, the International Central Processor will house ticketing counters, baggage claims and a 17-lane security checkpoint that will be one of the largest in the country. Attached to MLIT will be a new concourse and a fully renovated Terminal D, with updated facilities where travelers can board their planes, relax in the many lounges, or explore dining vendors. ITRP also includes the building of a brand new D West Concourse space that houses 10 new narrow-body gates. It will also accommodate up to 6 wide-body aircraft simultaneously. Due to be substantially completed in late 2024, ITRP will accommodate international airline growth, resolve current and future roadway and curbside capacity constraints and vastly improve the baggage handling system.