Houston Airports and All Nippon Airways Relaunch Direct Service to Tokyo, Japan
ANA's Houston-Haneda (Tokyo) route returns following brief service debut in March
October 2, 2020
Page Carousel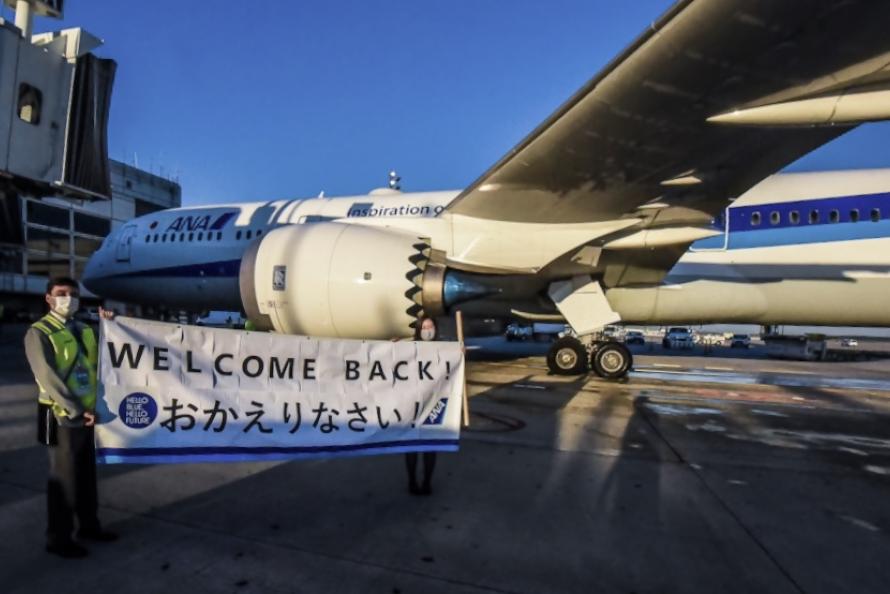 Houston's direct service to Japan's Haneda International Airport (HND) – which was in service for just a few days in March before suspending service due to COVID-19 - returns to George Bush Intercontinental Airport (IAH) with additional comfort and safety protocols from All Nippon Airways (ANA).
"Anytime air service is restored to a major hub like Japan, especially during this time, it's an affirmation that we're moving in the right direction," Houston Airports Aviation Director Mario Diaz said. "Japan is an important economic and cultural mecca for Houston. ANA, and all our airline partners, are restoring service routes with safety at the forefront. We appreciate our partnership with ANA airlines since 2015 and we look forward to enjoying an even greater level of connectivity with ANA's direct flight from Houston to Tokyo's Haneda International Airport."
ANA will provide Houston-Haneda service three times a week. Prior to Haneda, ANA provided service to Japan's Narita Airport directly to and from Houston. Ideally located within the city, Haneda is key to building a comprehensive network of domestic connections, and ANA's increased presence at the airport will aid inbound leisure and business travel beyond Tokyo itself.
"Haneda Airport is the gateway for international travelers who want to reach Japan and beyond," Vice President and General Manager of ANA, Yuzuru Nagawa said. "We are confident that this new route from Bush Intercontinental to Tokyo Haneda will create ease and convenience for all our passengers. In addition, ANA is committed to ensuring the comfort and safety of all its valued passengers and our employees by providing customers with clean and hygienic environments in airports, lounges and onboard aircraft through "ANA Care Promise", our new standard for air travel. We will continue our efforts to ensure the safety and comfort for all passengers flying with ANA."
The first flight from Houston's Bush airport to Tokyo's Haneda departed after a small and socially distanced inaugural ceremony at IAH Terminal D.
Following the "Inspiration of Japan" high quality of service, ANA has been awarded the respected 5-Star rating every year since 2013 from SKYTRAX. ANA is the only Japanese airline to win this prestigious designation eight years in a row.
Augusto Bernal
Public Information Officer | Houston Airports
Cell: (713)-542-1490
Augusto.Bernal@houstontx.gov