Chief Terminal Management Officer
Liliana Rambo, CM, CAPP, is the Houston Airport System's (HAS) Chief Terminal Management Officer.
As HAS' Chief Terminal Management Officer, Rambo is responsible for the overall passenger experience of George Bush Intercontinental Airport (IAH) and William P. Hobby Airport (HOU) by focusing on:
Delivering excellent customer service.

Passenger experience metrics.

Passenger engagement in individual terminals.

Relationships with airline and federal partners to support passenger focus.

Executing the passenger experience plan, which includes International, Customer and Custodial Services for each airport's terminal.

Executing the Skytrax plan to accomplish HAS' vision to "establish Houston as a five-star global air service gateway where the magic of flight is celebrated."
Previously, Rambo served as the General Manager (GM) for HOU where she was responsible for directing the day-to-day management of HOU, as well as establishing policies, procedures, guidelines and project schedules for HOU. She was also responsible for developing the collaborative relationships with our air carriers, tenants and team members to excel at providing a customer-friendly, safe, secure and efficient operation at HOU to the travelling public. In addition, she coordinated the preparation, implementation and monitoring of the budget and expenditures for HOU, among other duties.
Rambo served as the President of Winpark, a Houston-based parking operating company that provides facilities in Houston, San Francisco, Dallas, Sacramento, Phoenix and Austin. Prior to Winpark, Rambo served as the Parking Director for HAS overseeing an operation of over 35,000 parking spaces and achieving annual parking revenue of over $100 million. Rambo has also served as the Parking Management Director for the City of Houston (COH), managing on-street parking operations. Additionally, Rambo led the City of Hollywood, Florida's, Office of Parking Services and was the director of off-street operations for the Miami Parking Authority.
Rambo holds a Master of Science in Management from St. Thomas University and a Bachelor of Business Administration in Marketing and International Business from Florida International University. She has held key leadership roles within the parking community, most recently as the chair of the board of directors for the International Parking Institute. Rambo has also served on the board of directors of the Florida Parking Association and the board of directors of the Texas Parking Association, which recognized her with its Distinguished Service Award.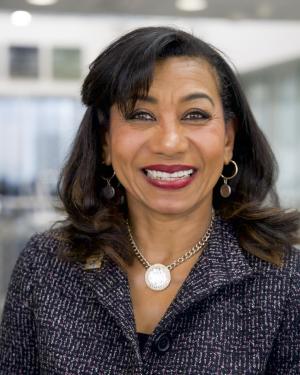 Download a High Resolution Image.