Kiosks at Houston Airports Provide Interactive 3D Wayfinding and Can Send Directions to Smartphone
November 14, 2018
Page Carousel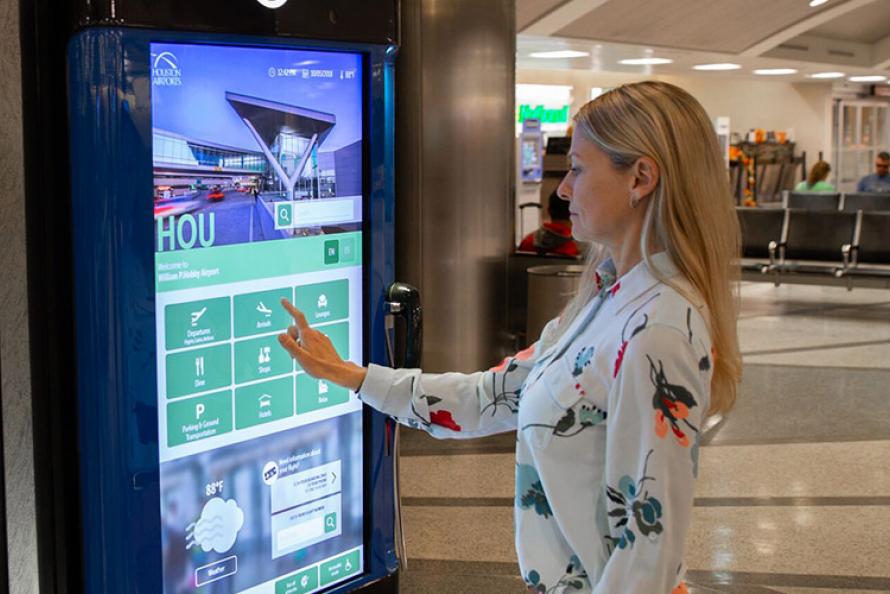 Visitors to the Houston Airport System airports have another new technology-based tool that puts vital and useful information at travelers' fingertips— literally.
Partnering with JCDecaux, both George Bush Intercontinental Airport and William P. Hobby Airport unveiled new and improved Interactive Visitor Kiosks available throughout both facilities, featuring state-of-the-art software and 3D wayfinding maps that help not only navigate through the airports but also provide a plethora of useful information.
Hobby Airport Click Here or IAH Airport Click Here
The new, more accessible kiosks — installed by JCDecaux the at both airports — feature oversized touchscreens that are more responsive to the touch and easy to use and read. The screen display can be lowered to ensure it is ADA compliant.
Thanks to new ViaDirect 3D map software — Hobby and Bush are the first airports in the Americas with that technology — passengers can find directions to their boarding gates by entering their flight information or scanning their boarding pass in the updated search function. The kiosks take that information and display a 3D map that will show the quickest and most efficient route to the departing gate.
And, to keep those directions handy, travelers can choose to have a map of their route sent directly to their smartphone in a text message. As well, the enhanced search capabilities provide not only user-friendly directions and maps, but also pertinent information for the traveler, like weather updates, airport shopping and dining options, and a variety of services available, like locations for ATMs, water bottle filling stations, shoeshine stands, currency exchanges and clubrooms. The kiosks in the baggage claim area include information on nearby hotels as well as ground transportation.
The new software is fast. Using the kiosk, the time it takes to find a destination with the mapping tool has improved by almost three minutes — travelers thus far have been able to find their desired destination in approximately 60 seconds.
The kiosks at Hobby Airport now provide information in Spanish as well as English, and the option for Spanish will be available soon at Bush Airport kiosks.
The first kiosks were launched at Hobby Airport in June, and since then usage at the new kiosks at that airport is up by more than 900 percent — growing from a little more than 700 visits to nearly 7,000 visits in the first three weeks.
Learn more about all the Houston airports have to offer at fly2houston.com.