Hobby Airport teams with aviation partners to pull off its first-ever wedding for woman and her active-duty fiancé
Southwest Airlines covered the decorations, Paradies Lagardère baked the cake, Harmony in the Air musicians serenaded the couple, the USO prepared the first toast, and a volunteer chaplain married the couple.
March 31, 2023
In a promise to her dying mother, Lara Mark moved forward with her wedding to U.S. Navy Lt. Cmdr Cylas Hensley on Monday, March 20, 2023 – the first day of spring. While a wedding ceremony at William P. Hobby Airport's Interfaith Chapel had never before happened in the history of Houston's oldest airport, for the couple, it makes perfect sense.
"Whether it was a layover or a missed flight, the airport has been a huge part of our lives," said Hensley.
Hensley and Mark met at the California wedding of a mutual friend in 2018. Mark, an interior designer, lives in St. Louis, Missouri. Hensley, who is an active-duty Navy Reservist, does not. The couple spent the last 4.5 years boarding planes to see each other. In spite of the travel challenges created by the COVID-19 pandemic, the couple made it work.
"We are always open to the possibility of something adventurous and maybe a little off the beaten path," Mark said.
Once engaged, Mark planned to move to Washington D.C. to live with her fiancé. But her mother became ill; so sick that by mid-March, Mark's mother was in hospice care. Mark's mother made her 47-year-old daughter promise that she would move forward with her wedding to her 44-year-old fiancé.
"It's a wedding in the airport," said Ella Ghica, Manager of Volunteer Outreach Initiatives for Houston Airports. "The airport was operational during the wedding. We did not close down the area. We still had passengers flying in and planes taking off and Lara and Cylas' love story took flight."
While neither family nor friends were able to attend the wedding, dozens of aviation workers gladly stood in their place.
"What a wonderful group of people to celebrate this with," Mark said.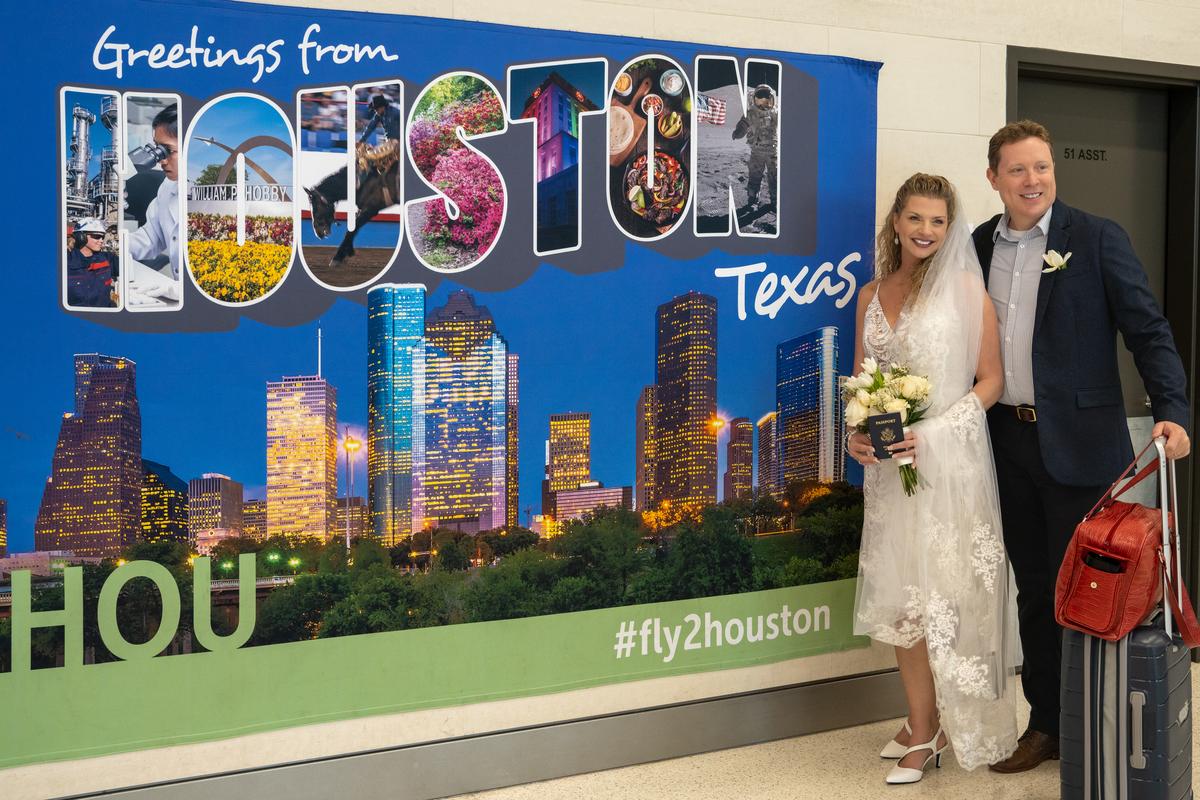 WATCH | Couple ties the knot at Hobby Airport during layover 
Southwest Airlines created signage and provided decorations and flowers. The USO served the couple's first toast. Harmony in the Air, the award-winning performing arts program of Houston Airports, played live music for Mark's short walk down the aisle so the couple could enjoy their first dance in the food court as curious passengers watched with delight. Paredes Lagardère, a Houston Airports concessionaire, donated a freshly baked cake in the couple's favorite flavors. The Houston Airports Communications Team snapped the wedding day photos, Ghica served as Mark's Maid of Honor and Chaplain Kenneth Richardson, a Houston Airports volunteer, presided over the nuptials.  
"It was originally supposed to be Lara and myself and the pastor," Hensley said. "It evolved into something completely different, so we're rolling with it and it's fun."
The wedding took place at Hobby Airport, two hours before the Hensley's boarded their flight bound for their honeymoon in Mexico.
"We plan to fly through Houston for decades to come," said Mark, "and every time we visit Hobby Airport we will think of our wedding and the people who made it so very special."