ecopark2 is the best parking value on Will Clayton Parkway at Bush Intercontinental Airport (IAH).
PLEASE NOTE: ECOPARK AND ECOPARK2 SHUTTLES NOW PICK UP AND DROP OFF IN THE SAME PLACE, BY TERMINAL. PLEASE SCROLL DOWN FOR THE DETAILS.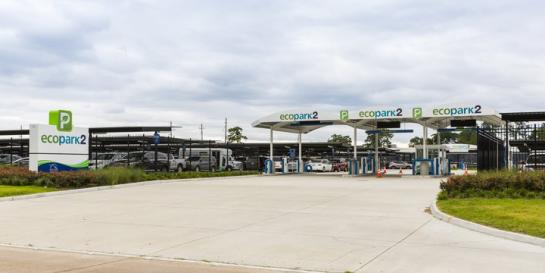 ecopark2 (Will Clayton Blvd - Covered Only)
Rates:
| | | |
| --- | --- | --- |
|   | Covered |   |
| 0-3 hrs | $6.47 plus tax  | Best value at IAH! |
| 3-24 hrs | $7.39 plus tax | Best value at IAH! |

Reservations are available for ecopark2 at IAH. Otherwise, parking availability at ecopark2 is based on a first-come, first-serve basis.
ecopark2 operates the largest and most environmentally friendly shuttle fleet at IAH. Shuttle service operates 24/7 to and from the terminals for your convenience.
ecopark2 is located at
5021 Will Clayton Parkway
Houston TX 77032
The ecopark2 lot can also accommodate oversized vehicles such as campers, large trucks, etc. Oversized vehicles (maximum 11'9") at ecopark2 enter through the main entrance, as shown on the IAH parking map.
For questions related to parking at ecopark2, please contact SP+ | Global | IMS at spgiparking.com
ECOPARK SHUTTLES
Please note: ecopark and ecopark2 now pick up and drop off in the same place, by terminal.
Pick-up/Drop-off - outside Baggage Claim/Arrivals Level, Terminals A, B, and C. 
Follow signs to "Ground Transportation." Exits are marked with "Parking Shuttles"
Terminal A: west side, Door A-114

Terminal B: west side, Door B-102N 

Terminal C: west side, Door C-103
Drop-off ONLY - Departures curb, Terminal D
Terminal D: outside lane, Door D-102
Note: International passengers who arrive at Terminal D will proceed through Customs & Immigration to the Terminal E international arrivals hall.