The Houston Airport System wants travelers to be aware of the TSA checkpoint screening procedures at William P. Hobby Airport (HOU).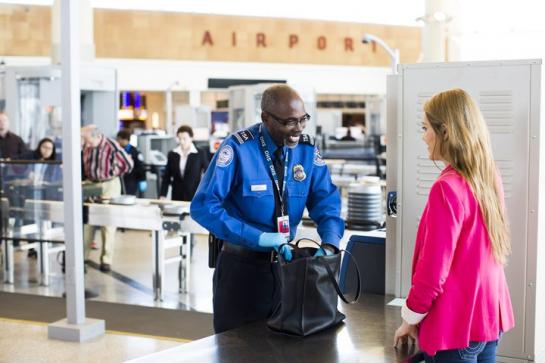 Advanced Imaging Technology
Houston was selected as one of the first airports to introduce a new technology known as "Advanced Imaging Technology" (AIT).
When you arrive at a checkpoint where AIT is in operation, TSA staff will ask you to enter the unit with your feet slightly spread apart and your arms raised overhead. While you are in this specified position, a scan of your image allows TSA staff to better detect threats such as weapons, explosives or other objects, which may be concealed under layers of clothing.
Generally, passengers undergoing screening will have the opportunity to decline AIT screening in favor of physical screening. However, some passengers will be required to undergo AIT screening if their boarding pass indicates that they have been selected for enhanced screening, in accordance with TSA regulations, prior to their arrival at the security checkpoint. This will occur in a very limited number of circumstances. The vast majority of passengers will not be affected.
TSA Screening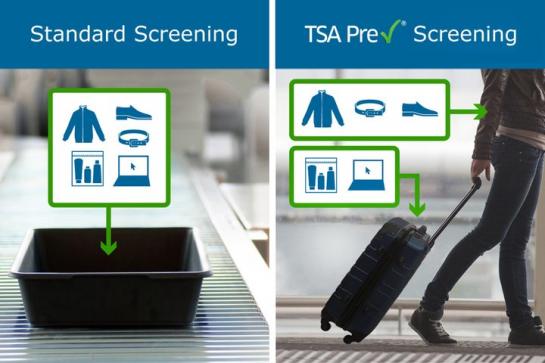 TSA Enhanced Pat-Downs
TSA began a new security screening technique that is more thorough as an enhanced pat down.
The enhanced pat-down may be performed by TSA agents on a random basis or when someone prefers to have a "pat-down," rather than being scanned in the AIT or full body scanner.
Either way, if a TSA agent indicates that an enhanced pat-down is required, they will use their hands to check a passenger, rather than using the metal-detecting wand to inspect the passenger from head to toe to check for threats such as weapons, explosives or other objects which may be concealed under layers of clothing. When a TSA agent performs this procedure, they will explain in advance the steps they will take. The traveling public always has the option to ask for a private screening should a person not want to have this measure done in a public place.
TSA offers a "modified pat-down" for children 12-years-old and under who require the additional screening.
For more information, go to www.TSA.gov
3-1-1 Liquids Rule
You are allowed to bring a quart-sized bag of liquids, aerosols, gels, creams and pastes through the checkpoint. These are limited to 3.4 ounces (100 milliliters) or less per item. This is also known as the 3-1-1 liquids rule.
For travel tips and a complete list of items prohibited from carry-on or checked baggage, visit www.TSATravelTips.us or call the Contact Center toll-free at 1-866-289-9673.
Contact
You may call the TSA Contact Center at (866) 289-9673 between 8 a.m. and 11 p.m. (ET) Monday through Friday, or between 9 a.m. and 8 p.m. (ET) on weekends and holidays, email us at TSA-ContactCenter@tsa.dhs.gov or submit a form online at tsa.gov.
TSA Checkpoint Hours of Operation
The Transportation Security Administration (TSA) operates the security checkpoint at William P. Hobby Airport (HOU).
Below you will find the hours of operation for the HOU checkpoint. Please keep in mind that these times may change due to the airlines' schedules.
Main Terminal
Hours: 03:45 a.m. - 08:45 p.m.
Pre✓™
CLOSED
Expedited All Day
FEDERAL INSPECTION SERVICES (FIS)
Hours: 09:00 a.m. - 9:00 p.m.
Expedited screening is available at the HOU security checkpoint for travelers who are members of the DoD, Adults 75 and Older, Children 12 and under, and for those who have been identified as TSA Pre✓™ with the logo on their boarding pass. TSA Pre✓™ travelers will be expedited.
In the absence of the TSA Pre✓™ lane at a checkpoint, TSA Pre✓™ travelers will be expedited. Expedited screening requires that liquids and large electronic devices such as laptops be removed from carry-on baggage. Travelers undergoing expedited screening are NOT required to remove shoes and light jackets.
Pre✓™ availability at HOU checkpoint is subject to change based on traveler throughput analysis and participation.
**KCM (Known Crew Member) Portal Available
Learn more about TSA PreCheck.
Federal Aviation Administration Aviation Update
The FAA has very useful tips to help air travelers meet and assist the heightened security measures implemented since the Sept. 11 attacks. These guidelines are available to make your travel experience an easier one. For more information, please visit faa.gov.
Clear
CLEAR is the fastest and most predictable way to get through airport security. Being a CLEAR member means you can breeze right past the long lines and go straight to screening.
Main Terminal CLEARlane: 
Sunday - Friday 4:30 a.m. - 8:00 p.m.
Saturday  4:30 a.m. - 7:00 p.m.
Learn more about CLEAR and how to sign up.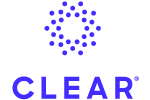 Terminal
Approx. Wait

Loading...