Houston's Airports Score Among the Best in J.D. Power 2020 North America Airport Satisfaction Study
Hobby Airport ranks fourth among large airports in North America, and Bush Airport ranks 13th among mega airports
September 25, 2020
Sept. 25 - Houston's two commercial airports score among the best in North America, according to the 2020 J.D. Power North America Airport Satisfaction Study released this week.
Both George Bush Intercontinental (IAH) and William P. Hobby (HOU) airports noted double-digit scoring improvements from 2019. Most notably, HOU's score climbed by more than 30 points from 2019 to finish in fourth place in the large airports category—up from 10th place in 2019. IAH also saw a double-digit scoring increase to finish in 13th place in the mega airports category.
"We see these improvements in customer satisfaction as a testament of our efforts to keep travelers safe during this challenging time," Houston Airports Director of Aviation Mario Diaz said. "Our commitment to continuing to elevate our customer service and experience never stops. We dedicate these honors to the exceptional Houston Airports team members who make the magic of flight even more magical for our passengers every single day."
J.D. Power Mega Airport Rankings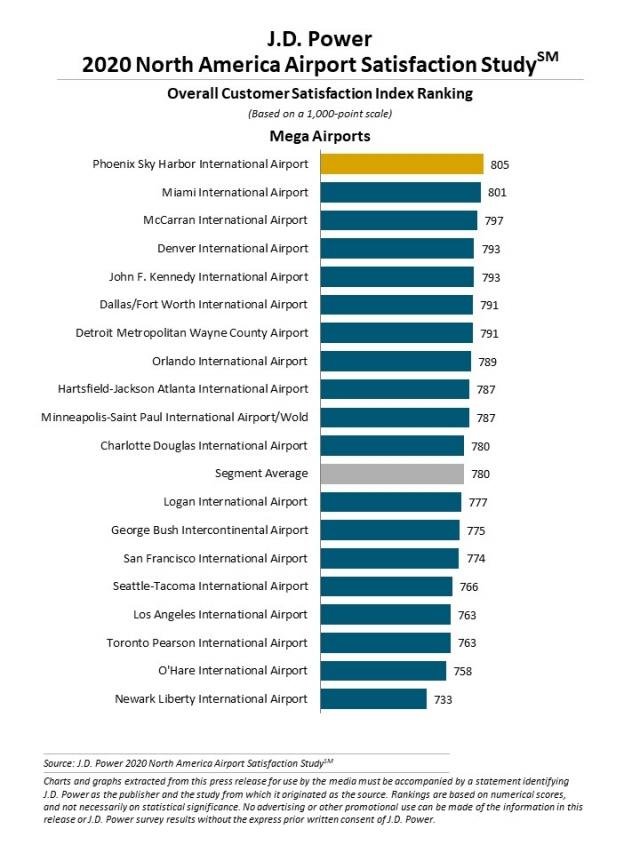 J.D. Power Large Airport Rankings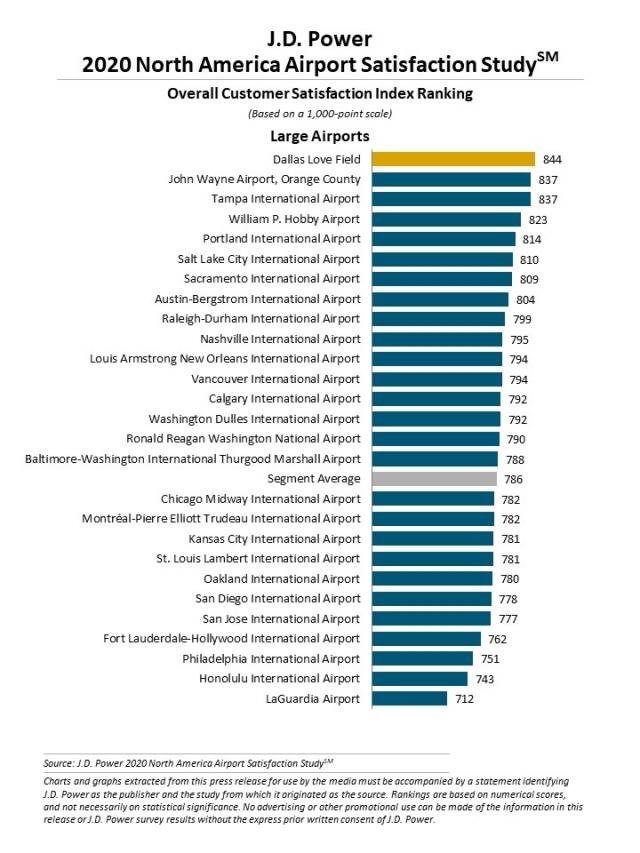 The J.D. Power 2020 North America Airport Satisfaction Study measures overall traveler satisfaction with mega, large and medium North American airports by examining six factors (in order of importance): terminal facilities; airport arrival/departure; baggage claim; security check; check-in/baggage check; and food, beverage and retail. Mega airports are those with 33 million or more passengers per year; large airports with 10 to 32.9 million passengers per year; and medium airports with 4.5 to 9.9 million passengers per year.
Now in its 15th year, the study is based on 26,058 completed surveys from U.S. or Canadian residents who traveled through at least one U.S. or Canadian airport and covers both departure and arrival experiences (including connecting airports) during the past 30 days. Travelers evaluated either a departing or arriving airport from their round-trip experience. The study took place from August 2019 through July 2020.
For more information about the North America Airport Satisfaction Study, visit http://www.jdpower.com/resource/north-america-airport-satisfaction-study.
About J.D. Power
J.D. Power is a global leader in consumer insights, advisory services and data and analytics. A pioneer in the use of big data, artificial intelligence (AI) and algorithmic modeling capabilities to understand consumer behavior, J.D. Power has been delivering incisive industry intelligence on customer interactions with brands and products for more than 50 years. The world's leading businesses across major industries rely on J.D. Power to guide their customer-facing strategies. J.D. Power is headquartered in Troy, Mich., and has offices in North America, Europe and Asia Pacific. To learn more about the company's business offerings, visit JDPower.com/business. 

About Houston Airports 
Houston Airports is the City of Houston's Department of Aviation. Comprised of George Bush Intercontinental Airport (IAH), William P. Hobby Airport (HOU) and Ellington Airport (EFD) / Houston Spaceport, Houston Airports served nearly 60 million passengers in 2019.  Houston Airports form one of North America's largest public airport systems and position Houston as the international passenger and cargo gateway to the South Central United States and a primary gateway to Latin America.  Houston is proud to be the only city in the Western Hemisphere with two Skytrax rated 4-star airports.  Learn more at fly2houston.com. 

Media Contact:
Augusto Bernal
Public Information Officer | Houston Airports
M: (713) 542-1490 Augusto.Bernal@houstontx.gov