Weather Advisory | Houston Airports prepares for Arctic front
Houston Airports is monitoring weather forecasts and preparing facilities ahead of the Arctic front. Passengers are encouraged to monitor the status of their flights and arrive early during this week of winter holiday air travel. 
December 21, 2022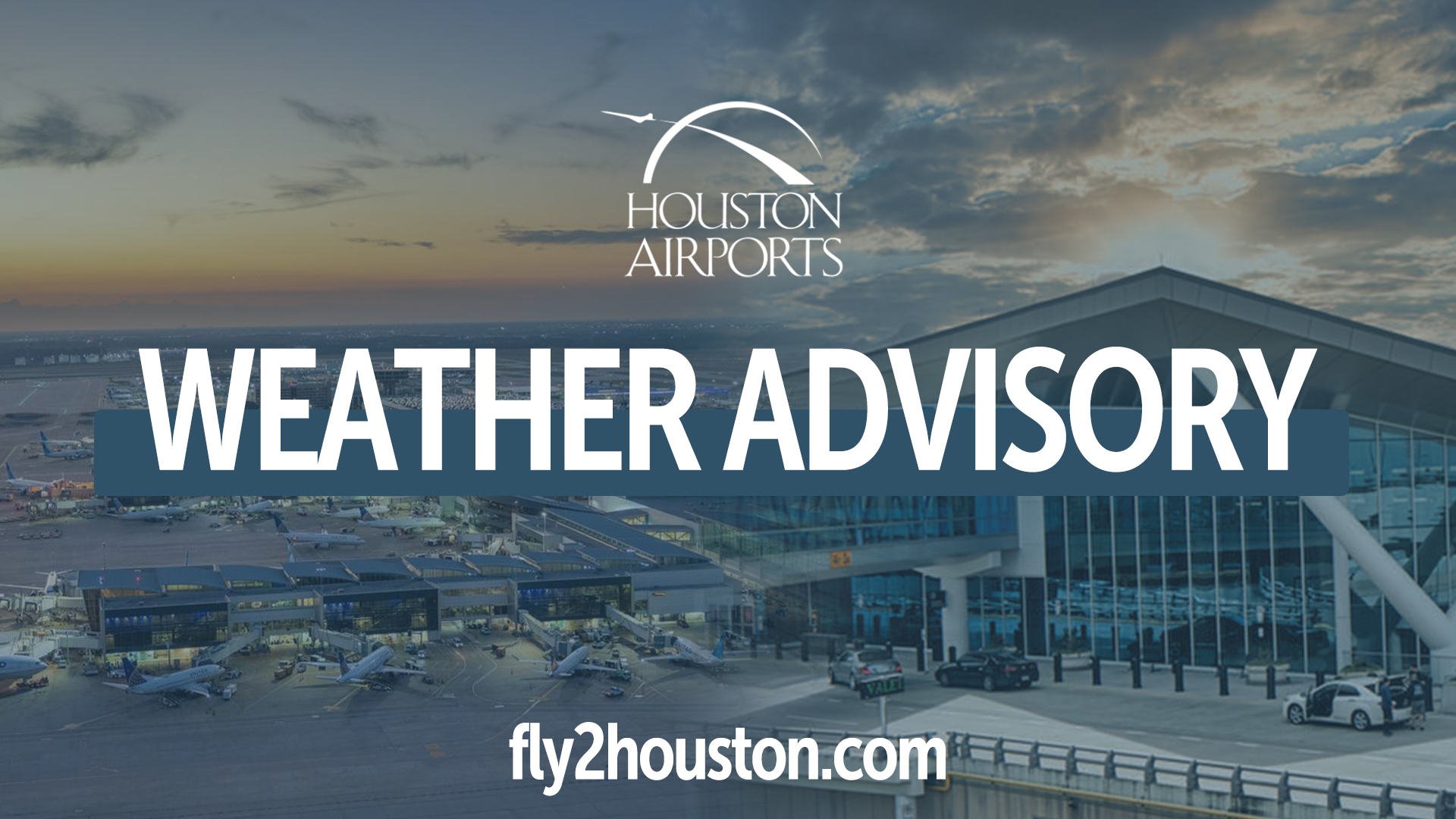 Houston Airports is preparing George Bush Intercontinental Airport, IAH, and William P. Hobby Airport, HOU, for the arrival of an Arctic front. Find up-to-date weather conditions and forecasts from the National Weather Service. 
During this winter holiday travel season, much of the country is facing severe weather. Flights may be impacted. Houston Airports encourages passengers flying out of Bush or Hobby airports to check with their airlines on the status of their flight before passengers head to the airport. You can find real-time status updates for flights arriving and departing Houston's airports by clicking here and then selecting IAH or HOU, and then arrivals or departures. 
Houston Airports understands how frustrating unexpected delays can be for you, your family and our own operations team. It's why we promise to deliver to our guests a 5-star airport experience that showcases world-class service, modern facilities and uniquely "Houston friendly" hospitality.   
We encourage you to enjoy one of the largest collections of public art in the state of Texas. Throughout our terminals and grounds you'll find everything from sculptures to photographs created predominantly by Texas-based artists.  We invite you to grab a bite to eat, fill up your water bottle and enjoy our complimentary Wi-Fi as we all wait for the storm to pass. 
ARCTIC FRONT | FREQUENTLY ASKED QUESTIONS 
HOW DOES HOUSTON AIRPORTS MONITOR WEATHER CONDITIONS? Houston Airports has an Emergency Management Division that works proactively with the National Weather Service. A meteorologist is on staff at Houston Airports and the NWS has active observational weather stations at George Bush Intercontinental Airport and William P. Hobby Airport. Houston Airports also receives additional weather information from a contracted and trusted service, StormGeo. 
HOW DO I KNOW IF MY FLIGHT IS STILL HAPPENING? Please check with your airline for the latest information on your flight status. Houston Airports does not determine airline schedules. -You can find real-time flight status updates for all flights arriving and departing Houston's airports at fly2houston.com 
HOW DOES THE AIRPORT DEAL WITH SEVERE WEATHER?  Houston Airports maintains equipment, keeps materials stocked and trains personnel as part of a robust response to all types of severe weather. We proactively prepare and protect our facilities to withstand severe weather conditions and conduct friction tests on the runways to ensure aircraft are safe to take off and land. If necessary, our crews work to prep the airfield and surrounding roadways for freezing conditions. Houston Airports is working with its airline partners to ensure the least amount of operational disruption.  
WHAT HAPPENS TO MY CAR IF I'M TRAVELING AND I LEFT IT IN THE GARAGE? Our parking facilities are open and airport guests may leave their vehicles in our garages or our lots until their return. 
WHAT HAPPENS IF MY FLIGHT IS CANCELLED? Each airline has its own policy on what it can do for passengers if flights are cancelled. Passengers can reach their airline by communicating with airline staff at the airport, by phone, on the airline's social media pages or through the airline's mobile app.  
CAN I STAY AT THE AIRPORT? Houston's airports are not equipped to operate as shelter locations. Information about emergency shelters is provided by the City of Houston. You can access the information here https://www.houstonoem.org/warming-centers  
DOES THE AIRPORT REGULARLY PLAN FOR SEVERE WEATHER? Airport staff regularly train for weather events and other situations. Houston's airports keep updated emergency response plans for severe weather conditions. 
Prioritizing Public Health | Houston Airports is committed to maintaining enhanced safety measures. Additional hand sanitizer stations, increased frequency of air-filter replacements, digital menus and payment options and the use of deep-cleaning robots at high touch point areas continue at both airports. 

Come Early and Relax | Playgrounds, restaurants, shops, Interfaith chapels, Mother's Rooms and pet relief stations are among the world-class amenities offered at both Houston Airports. Local artists are also now in residence at Bush and Hobby airports and live musical performances provide harmony for air travelers. 

Follow Houston Airports on Twitter | @IAH and @HobbyAirport
Follow Houston Airports on Facebook | @BushAirport and @HobbyHou