Volunteers at IAH, United Airlines distribute winter supplies to neighbors experiencing homelessness
In 2015, airport volunteers distributed donations to Houstonians experiencing homelessness. Seven years later, the kind gesture has blossomed into an annual initiative: United, We Share the Warmth.
December 27, 2022
George Bush Intercontinental Airport, IAH, is a community all its own. Planes connect passengers to more than 180 non-stop destinations. The total amount of people working at the airport rivals the populations of some small towns in Texas. The variety of languages spoken throughout Bush Airport's terminals underscores why Houston is the most diverse city in the United States.  
The airport runs like a metropolis. And in this community, neighbors help their neighbors.   
Seven years ago, Mirtalis Mendez came across unused hygiene kits provided by her employer, United Airlines. Mendez knew Houstonians experiencing homelessness could benefit from the kits - especially in the month of December. 
"We know the cold fronts in Houston can be intense," said Mirtalis Mendez, Airport Operations Supervisor for United Airlines. "We want to make sure the homeless population isn't forgotten."  
In December 2015, United Airlines donated hygiene kits and supported Mendez as she rallied a small group of colleagues for help. United, they delivered a random act of kindness to some homeless neighbors.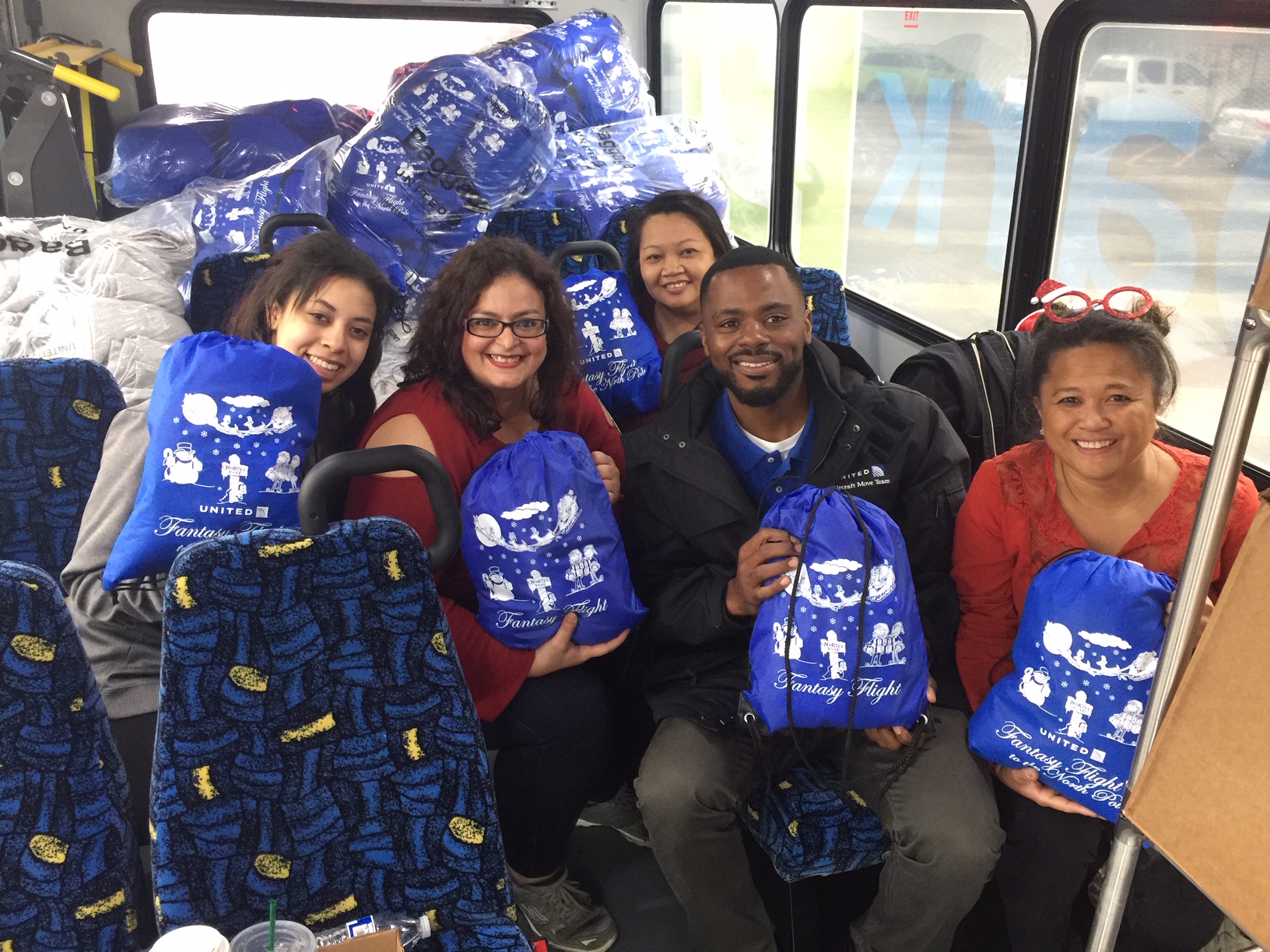 That kind gesture has blossomed over the last seven years. Within a bustling airport, a community formed. Mendez has inspired more than a dozen airport workers to join the initiative and volunteer their time and talent.  
"United, we share the warmth," said Ella Ghica, Manager of Volunteer Outreach Initiatives for Houston Airports. "We are in the business of connecting people, not just through our airports, but through community outreach."  
Ghica is among the volunteers. She's also a part of Houston Airports Charities and Community Affairs, which allows the Interfaith Chapel to be used as storage for donations collected throughout the year. 
More volunteers invite more opportunities for more types of donations. The initiative now focuses on preparing homeless neighbors for Houston's cold weather. United, airport workers and airport retail stores donate socks, blankets, ear plugs, lotions and durable bags. 
A crochet club, started by United Airlines employees in the early months of the COVID-19 pandemic, now makes scarves, hats and gloves during breaks. 
"The crochet club gave team members a chance to fellowship in remarkable ways," said Mirtalis Mendez. "The group of United Airlines employees would get together several times a week to relax and crochet and even teach their colleagues how to better their skills." 
This year, the team crocheted more than 300 sets of hats, scarves and gloves. 
"It takes about a week to fully complete one item, like a scarf or hat," said Gretchen Benson, a United Airlines Customer Service Representative and member of the crochet club. 
Donations are an act of love. Distribution, is an act of kindness.  
"Yes, we are far from an airport. We come to the areas where we have homeless neighbors" said Ella Ghica while under an overpass near Downtown Houston on the morning of December 7, 2022. "And we share a little bit of love."  
Star of Hope Mission is about 20 miles south of Bush Airport. The organization provides shelter, food and assistance as it works to combat homelessness in Houston.  
In addition to volunteers and the use of its Interfaith Chapel, Houston Airports also donates the use of ecopark buses to shuttle volunteers and donations to Star of Hope. 
"If we've learned anything these past few years with the pandemic, it's that we all can benefit from helping one another, no matter the gesture," said Mendez. "We can all do our part." 
This year, the community of volunteers at Bush Airport collected enough donations to hand-deliver 400 cold-weather kits to neighbors. By Mendez's count, that's more than 3,000 people helped in the last seven years.  
"We couldn't do this without teamwork," said Mendez. "We hope the community can see our efforts and be inspired to do what feels right to them and give back in their own special way." 
Michael, one of the neighbors helped by the initiative, said the donations mean a lot. "It means that there are people out there that care."  
Mirtalis Mendez envisions even more care packages, 800 of them, will be distributed in 2023.  
"Nothing beats the smile on a person's face, receiving a hug, or hearing thank you," said Mendez of the reason she and volunteers continue to 'share the warmth' year after year. 
Inside Houston's busiest airport a community formed. Except in this community, it's people, not planes, that are making the connection.