Minority, women-owned and small businesses are instrumental in the success of the IAH Terminal Redevelopment Program
February 27, 2023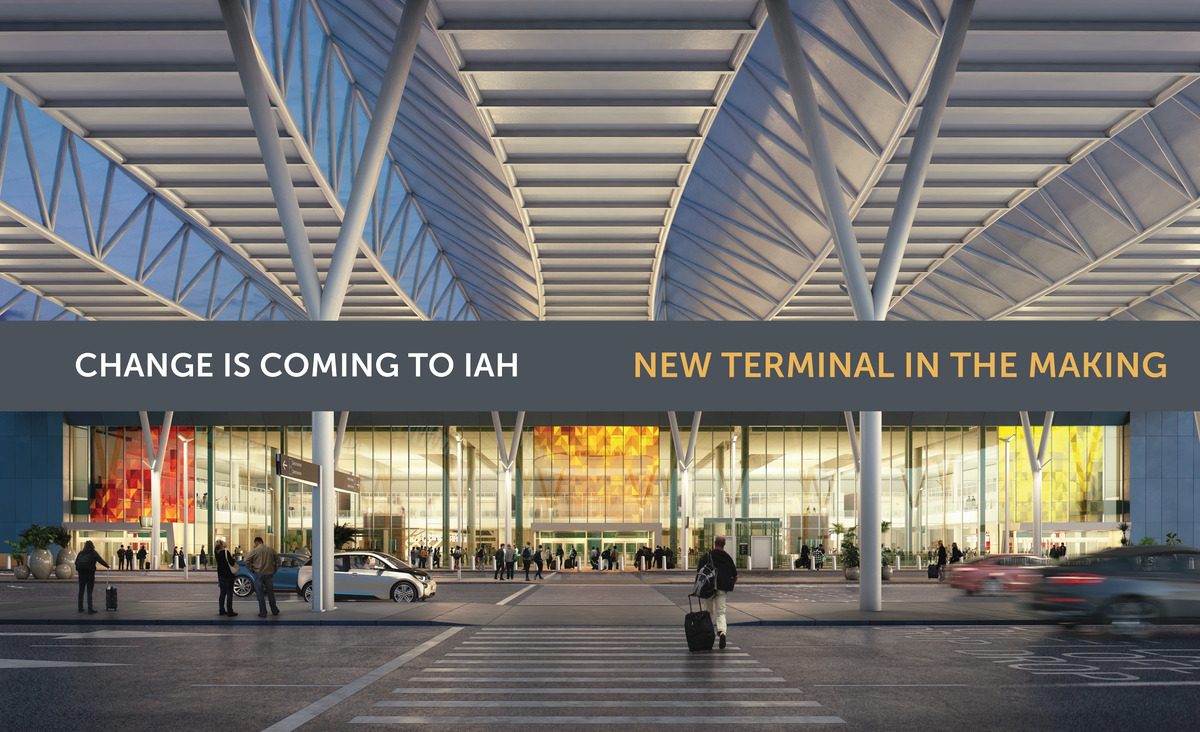 Through the 25 current prime professional services and delivery contracts, the IAH Terminal Redevelopment Program (ITRP) at George Bush Intercontinental Airport employs more than 526 companies in its day-to-day operations. Among the outstanding professional services organizations are currently more than 180 minority, women-owned and small business enterprises (M/W/SBEs) whose efforts have proven integral to the success of the ITRP. 
The City of Houston is one of the fastest-growing, most diverse cities in the nation with a metro area population of 6.7 million people, no ethnic majority and where nearly one in four residents are foreign-born. The City encourages business practices and arrangements that are inclusive of utilizing M/W/SBEs and historically underutilized businesses. 
ITRP stands as a model of those business practices with highly regarded M/W/SBEs and with a leadership team that also reflects diversity and inclusion. 
"The skills and ingenuity of our small, minority and women business partners have been absolutely crucial in the ongoing success of the ITRP", said Travis Sanderfer, Executive Program Manager. "Bush Airport's expansion and redevelopment will make one of the country's greatest airports even more modern and efficient and certainly enhances Houston's standing as a premier destination for business and tourism." 
"We literally wouldn't be where we are without the great work of many outstanding partners who occupy the M/W/SBE community. We are delivering a sustainable, modern, innovative and Houston-centric space as a direct result of our community partners." 
"Increasing diversity and inclusion is not only good for society but it's good for business. The presence of these firms in our marketplace allows us to choose from a greater pool of talent that brings a beautiful range of perspectives and innovation to the program. This also provides access for many smaller firms to expand their portfolio as they work on a program of this scope and magnitude. This not only makes them better but adds to Houston's ability to continue to grow as a community and a city. It's truly a win-win-win." 
The ITRP involves the work of more than 181 unique minority- and women-owned businesses, with M/W/SBE contract payments collectively totaling more than $115 million (27%) to date.  
Donna Williams, a Vice President at Parsons Corporation and the Program Management Support Services Project Manager for the Parsons-H.J. Russell Joint Venture, agrees with Sanderfer's assessment. 
"It's not rocket science…when individuals with different worldviews work together, you're going to get a wide variety of perspectives and ideas for solving problems or finding new, more efficient ways of doing things," Williams said. Williams has been with the program for five years and leads her JV's efforts in sourcing and hiring quality staff for the ITRP. "I'm proud to share that the Office of Business Opportunity recognizes contractors annually via the Annual Champions of Diversity Award program and in 2019 the PHJR Team received the City of Houston Professional Services Contractor of the Year Award," Williams said. 
"We purposely identify great candidates and there's no question that individuals from different backgrounds and who have different mindsets help build a better product. When you can blend diverse opinions and see certain scenarios from different perspectives, it often improves the dialogue and yields better results."   
Ramesh Gunda, Managing Principal and Regional Transportation Director - Central of Ardurra, has staff on the ITRP. His organization is a part of the Houston Aviation Alliance Program Management Support Services team that serves the program. 
Working on the ITRP helps grow the capabilities of the local M/W/SBE community, Gunda said. "Our role within the airport system has enhanced our core program management services by expanding our service line capabilities within the airport service industry." 
Jonathan Lee, the Invoice Audit and Compliance Administrator for ITRP, is with Olivier, Inc., a highly regarded consulting firm and a certified woman and minority-owned business. 
Lee has been with the ITRP since 2017 and discussed his feelings about the program. 
"To best describe what it means for Olivier to be part of the ITRP I like referencing a quote from Tom Peters, 'Leaders don't create followers, they create more leaders,'" Lee said. 
"The essence of this statement aptly depicts what ITRP and Olivier embody," Lee continued. "While ITRP has become one of the leading programs in the industry, it has also provided the platform to highlight the leaders within Olivier. Being part of a highly visible program such as ITRP has allowed the airport industry, as well as the City of Houston, to recognize the experience, knowledge, and value at Olivier. Building a better IAH for tomorrow is one of many goals of ITRP, and for Olivier to be part of that success is truly remarkable." 
Fronza & Francis (F&F) has worked on the ITRP since its inception. Esther Francis, Executive Director at F&F, serves as Quality Manager on the program. 
"The Fronza & Francis team has been a dynamic and excited participant on the Houston Airport System's ITRP since the inception of the program," said Michael Martin, Vice President of Business Development & Operations for F&F. "As a core contributor on the ITRP team, we are thrilled to celebrate the successes of the project and look to the future toward its completion. The executives and core members of our team are all proud to work with the Houston Airport System and we look forward to continuing to assist in its innovation and growth for years to come." 
Through events like its recurring Industry Day, Houston Airports showcases a myriad of business opportunities for large and small businesses alike on the ITRP and other programs and projects at the airport system. Opportunities abound in construction, facility maintenance, professional services, airport concessions, advertising and car rentals. These opportunities are awarded to companies through Requests for Qualifications (RFQs), Requests for Proposal (RFPs), or a competitive bid process.  
The Industry Day event also serves as a face-to-face networking opportunity for M/W/SBEs and other primes and sub-consultants to learn about the process of doing business with Houston Airports.
LEARN MORE | Companies invited to learn more about opportunities and future projects within Houston Airports
"Minority, women-owned, and small business enterprises are an integral part of building our city, providing exceptional services as evidenced by their participation in such projects as the ITRP," said Marsha Murray, Director of the Office of Business Opportunity (OBO). "At OBO, we will continue to ensure that these talented M/W/SBE firms have equal access to these opportunities that will bring IAH to the forefront. In fact, in addition to our OBO office downtown, there is an entire team at the airport, HAS-OBO, dedicated to their growth and success." 
"It's important to embrace diversity," said Sanderfer. "Diversity brings fresh perspectives and skills and points of view that might otherwise not be recognized. Because we draw from so many different schools of thought, we have consistently created a better product." 
"We anticipate that underutilized and minority-owned businesses will continue to play major roles in the success of the ITRP as they deliver critical services and products year after year." 
RELATED: Sights and sounds of progress | Construction advances steadily on IAH Terminal Redevelopment Program
RELATED: ITRP improves the passenger experience for generations to come