SOARING TOWARDS SUSTAINABILITY
Houston Airports is committed to carbon neutrality by 2030
Defining sustainability
Houston Airports adopted the triple-bottom-line definition of sustainability, which defines the need to be responsible stewards of the airport system's financial, natural and people resources.
Sustainability is not only about minimizing effects on resources, but also recognizing the role of airports in creating enduring communities, acknowledging the social costs of air travel, and creating airports that are resilient to future stresses such as energy or water scarcity.
Sustainability is about operating airports in an efficient and responsible manner now and into the future.
PLAN OF ACTION
Houston Airports is furthering carbon management and emissions reductions by seeking accreditation in the Airports Council International, ACI, Airport Carbon Accreditation process. The ACA process will map our current carbon footprint and provide the framework needed to reduce our carbon footprint to meet our initial goal of becoming carbon neutral by 2030.
The first requirement of the ACA process is to make a policy commitment to emissions reduction. With this statement, we have committed to calculate an annual greenhouse gas inventory, per for the ACA guidelines, for all three airports: George Bush Intercontinental Airport, William P. Hobby Airport and Ellington Airport.
READ | Houston Airports strives towards Airport Carbon Accreditation
READ | City of Houston Municipal Building Decarbonization and Benchmarking Policy
Watch the video below to learn more about how Houston Airports is soaring towards sustainability
Sustainable Management Plan
The Houston Airport System takes pride in maintaining a safe and dynamic air services network that fosters economic vitality for the transportation industry and facilities a strong level of global connectivity. From fleet services to terminal improvements, Houston Airports manages many aspects of airport operations while simultaneously enhancing the passenger experience.
In 2018, Houston Airports became one of 10 airports nationwide to finalize a Federal Aviation Administration approved sustainable management plan. The plan demonstrates the airport system's continued commitment or provide world-class air service, operational efficiency and customer service while striving to become more sustainable.

In the five years that followed, Houston Airports committed to reducing its environmental impact in seven categories including energy, water, greenhouse gas emissions and sustainable design.
This Sustainable Management Plan is critical to the Strategic Priorities of Houston Airports:
Make our passengers happy 

Achieve "opening day fresh" conditions for our airports

Build the platforms for future success

Invest in our partnerships and our employees
The Houston Airports design standard is a minimum of 20% better than the 2015 International Energy Conservation Code. Our standard is currently being utilized in the construction of several buildings at Bush Airport, including the Federal Inspection Services building and the Mickey Leland International Terminal, which are part of the International Terminal Redevelopment Program.
Sustainability by the numbers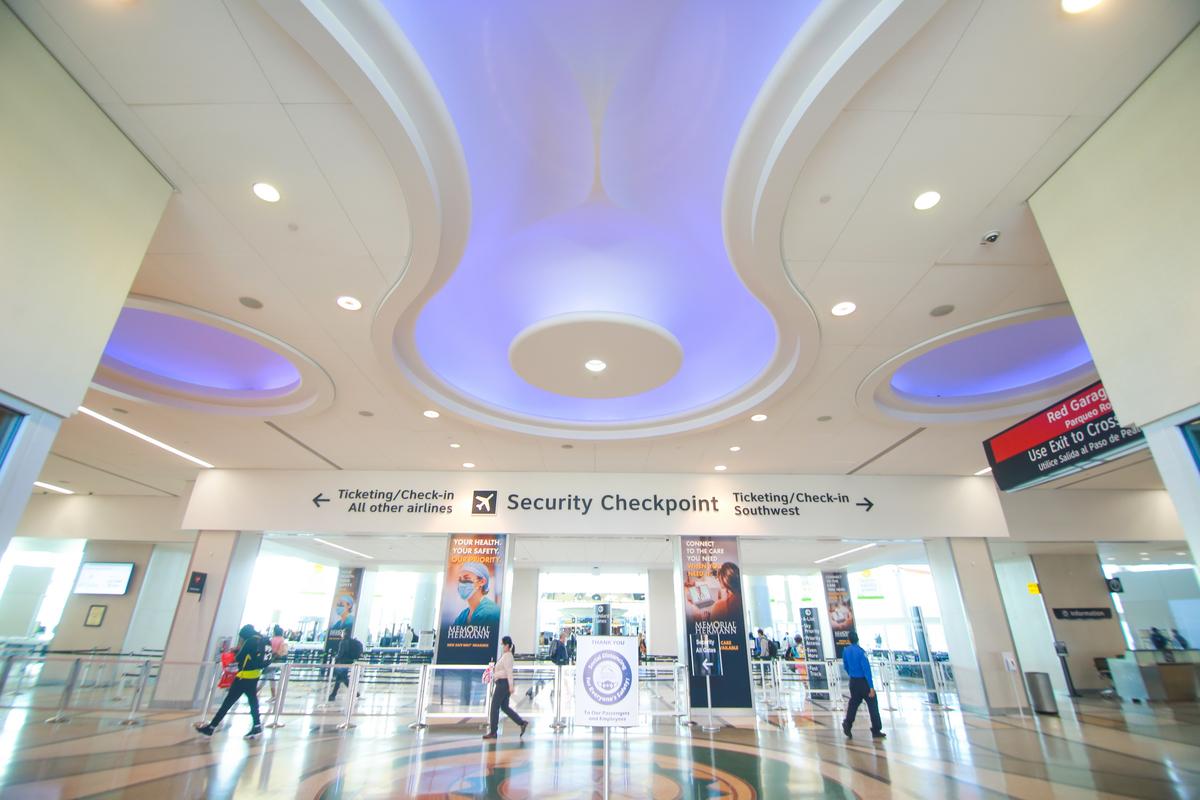 More than 20,000 LED bulbs are being installed at Bush and Hobby airports.
The energy efficient lighting is now along runways and inside parking garages and terminals.

Nearly 1 megawatt of power is harnessed by solar panels atop Hobby Airport's Red Garage.

Nearly 3,000 acres of forests and protected lands surround Bush Airport.
The landscape captures about 16,000 tons of CO2 annually.
Nearly 1,000 acres of grassland surround Hobby Airport.
The landscape captures about 250 tons of CO2 annually.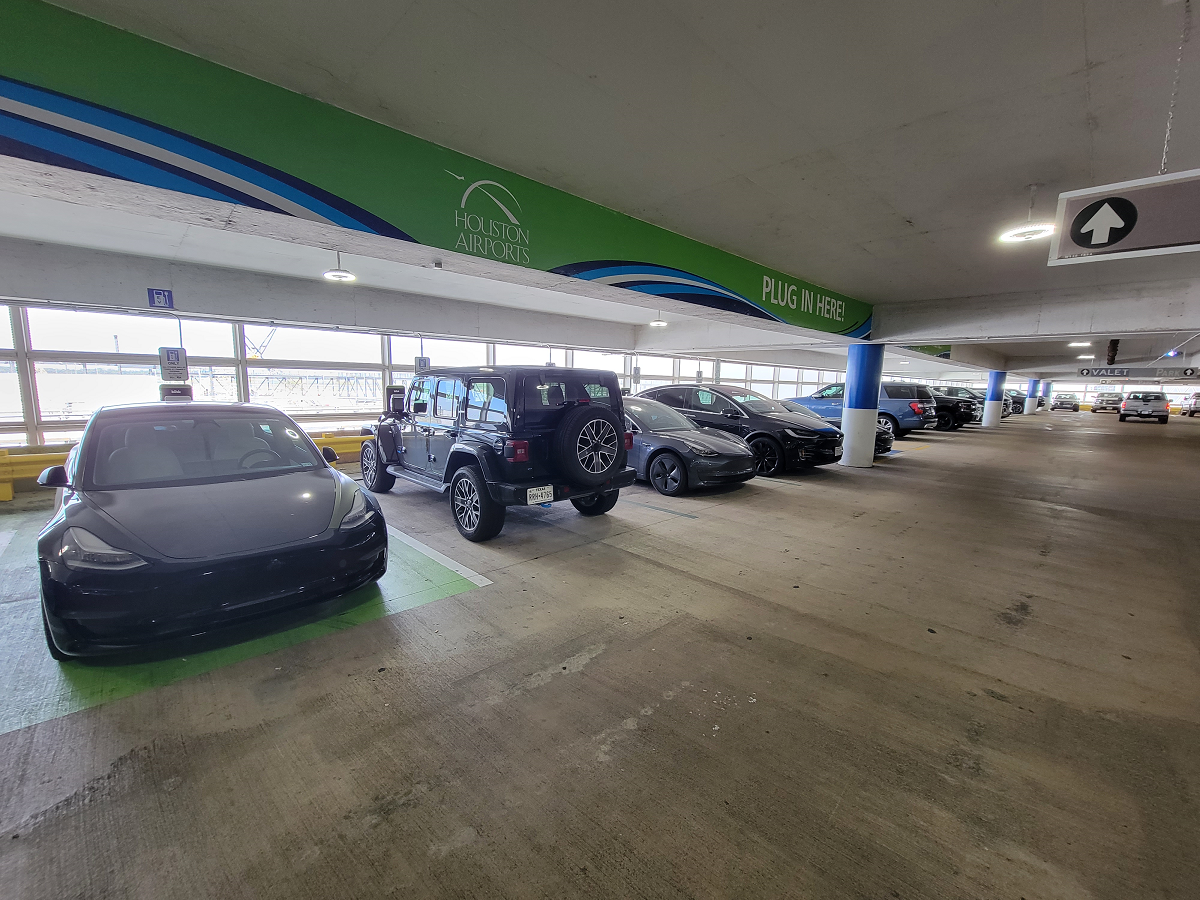 Dozens of electric vehicle charging stations are available at all Houston Airports parking facilities.
Hundreds of electric vehicles are available through our car rental partners.
25 all-electric Ford F-150 Lightnings will be added to the Houston Airports fleet in early 2024.
More than 1.8 kWh is saved in electricity, annually, with 4 chillers at Hobby Airport.
The environmentally friendly technology saves Houston Airports nearly $77,000 annually.
Nearly 100% of all metal and concrete is recycled during construction of the new international terminal at Bush Airport.
RELATED: Green Houston | Office of Resilience and Sustainability
RELATED: City of Houston Climate Action Plan