Tenant Opportunities
As the world's first truly urban commercial spaceport, Houston Spaceport offers unmatched business opportunities for aviation and aerospace companies of any size. The Spaceport is located on the southeast side of Ellington Airport, a mixed-use, general aviation airport with virtually limitless potential for expansion and development.
Houston Spaceport gives tenants the tools, space, facilities and infrastructure they need to operate and grow their commercial aerospace businesses. As a launch and landing site for suborbital, reusable launch vehicles as well as a center for innovation, the Spaceport offers a number of attractive build-to-suit leasing opportunities. 
400 Acres Available Now
Tenants may build on partial, single or multiacre lots to suit their particular business needs.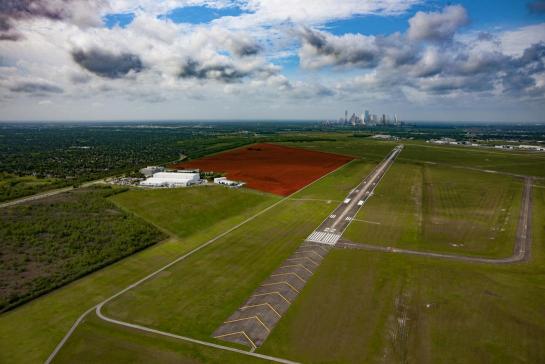 Infrastructure Underway on More Than 150 Acres
The Spaceport's Phase 1 Expansion encompasses 153.6 acres of critical infrastructure including streets, water and wastewater pipelines and electrical power distribution facilities.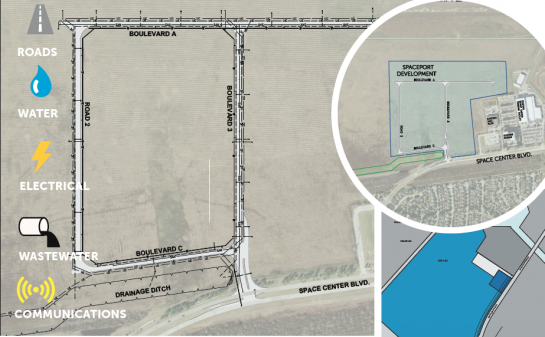 Two State-of-the-Art (CAT I ILS) Runways
Tenants of Houston Spaceport have two world-class runways at their disposal. Because NASA, all five branches of the military and general aviation all use Ellington Airport, it is designed to handle virtually any horizontal take-off aircraft or spacecraft.
| | | |
| --- | --- | --- |
| Runway | Current Length and Width | Expansion Capability |
| 17R/35L | 9000' x 150' | Yes — 3000' |
| 4/22 | 8001' x 150' | No |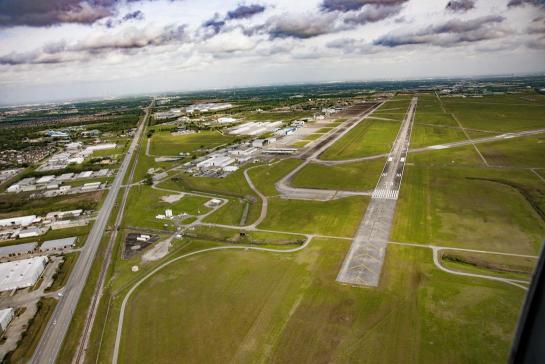 Painless Permitting
Since the City of Houston owns and operates EFD, acquiring building and zoning permits is quick and easy.
| | | | |
| --- | --- | --- | --- |
| Permit | Approval Authority | Average Approval Time | Fee |
| Building | City of Houston | 11 days | N/A |
| Zoning | City of Houston | 11 days | N/A |
Being a Houston Spaceport Tenant Has Its Benefits
Tenants who locate at Houston Spaceport find more than an ideal location. They enjoy many other unique advantages such as the opportunity to partner with NASA, universities and aerospace companies and share ideas with other like-minded enterprises. They also benefit from support from the most skilled professionals in the industry along with that of local, state and federal governments.
Schedule a Tour
Interested parties may view HASC and learn more about the Spaceport's Phase 1 Expansion by contacting:
Jimmy Spence
1-713-847-4216
spaceport@houstontx.gov