Summer travel can be a breeze with tips like these
Houston Airports release tips to make your summer travel experience a breeze.
July 7, 2016
Page Carousel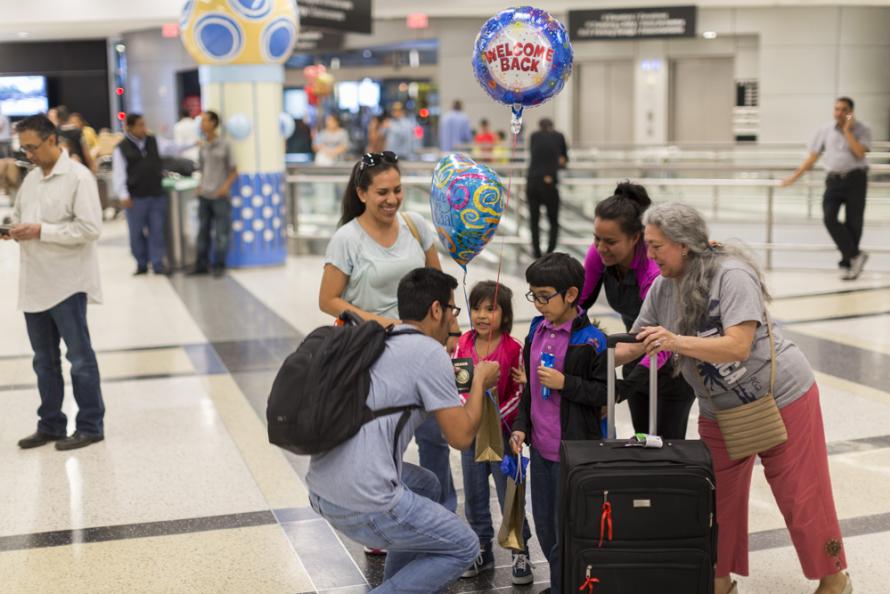 Summer is here, and that conjures up images of sunny days, splashing at the pool and backyard barbeques. It also means summer vacation travel. With that travel season in full swing, expect the number of people coming to the Houston Airport System's two main commercial airports — George Bush Intercontinental and William P. Hobby airports — to increase. In 2015, the two airports combined to serve more than 15 million passengers during June, July and August.

With the higher numbers traveling, passengers should arrive at least two hours before their flight departure and anticipate that the security process will last at least 30 minutes.

Houston Airports' reimagined website, fly2houston.com, can make that easier, with specific information about flights, parking, dining and shopping options and other amenities available at each individual airport.
Here are some additional tips to make your travel easy and stress-free:
Get plugged in
Technology is making travel easier and more convenient. Take advantage of that using the free high-speed WiFi available at all Houston airports. Use the web to get the latest flight information and check in for your flight 24 hours prior to departure. The digital bar code on the screen of your Smartphone can often be used during the check-in process. And, there are plenty of outlets and "charging" stands available at both airports to allow you to recharge all your electronics before the flight. Also, passengers can utilize the self-service check-in kiosks. These machines are offered by most airlines and allow passengers to print boarding passes, check luggage, select seats and purchase upgrades.
Parking
There are plenty of options at both airports for parking, both at the terminals and at the affordable ecopark locations. There are nearly 27,000 spaces available at Bush Intercontinental, including a new ecopark2 location on Will Clayton Boulevard, and with additional spaces now available in the new parking garage, nearly 7,000 spaces available at Hobby Airport. You can check our website to see learn more about our parking options at each airport by visiting the Bush Intercontinental and Hobby Airport parking pages.
Getting to your flight
Along with an early arrival — did we mention that it's a good idea to arrive two hours before your scheduled departure, if possible? — it's also a good idea to familiarize yourself with Transportation Security Administration procedures at www.tsa.gov to ensure what you pack in your carry-on is compliant with TSA standards. Passengers are allowed to bring a quart-sized bag of liquids, aerosols, gels, creams and pastes in carry-on bags and through the checkpoint. These are limited to travel-sized containers that are 3.4 ounces or less per item. Placing these items in the small bag and separating from your carry-on baggage better facilitates the screening process. Also remember that passengers are required to declare and check any firearms they are traveling with, and store their firearm in an approved case. Learn more about that at this link. And, because July 4 is just around the corner, remember that traveling with fireworks is prohibited. To make getting through security checkpoints easier and quicker, have your boarding pass and ID ready for display, remove your shoes and everything from your pockets before going through the metal detector or whole body imaging technology. If you're a member of TSA Pre✓, follow the signs at checkpoints to participate in expedited screening. If you are taking an international flight, make sure your passport is with you and up to date. It's a good idea to make copies of these documents and carry an extra set with them should the original identification be lost or stolen.
Getting back home
All Houston Airports are "active loading" facilities — which means parking is not permitted near terminals in designated loading and unloading areas — however, there is a way to get to the airport early without having to park in a terminal garage or drive laps in the traffic circling the facilities. Cell phone lots at both Bush Airport and Hobby Airport are available for those waiting to pick up arriving passengers. There are two cell phone lots at Bush Airport — one just off northbound John F. Kennedy Boulevard and one off westbound Will Clayton Boulevard — and at Hobby Airport a cell phone lot is available on westbound Airport Boulevard, just before the entrance to the airport. The lots are open every day, and there is no charge to park at the cell phone lots for short term waits. Signage marks all three locations, and drivers can wait there until their arriving party calls to tell you they have picked up their checked bags and are ready for you to pick them up at curbside. Using the cell phone lots can alleviate both congestion on the pickup and drop off locations and provide a quick, stress-free trip to the airport.
Passengers also can get updates on available parking and more by following the HAS Twitter accounts @IAH and @HobbyAirport.
Learn more about both airports at the Houston Airport System website.