Red Sand Project Raises Awareness of Human Trafficking
November 14, 2018
Page Carousel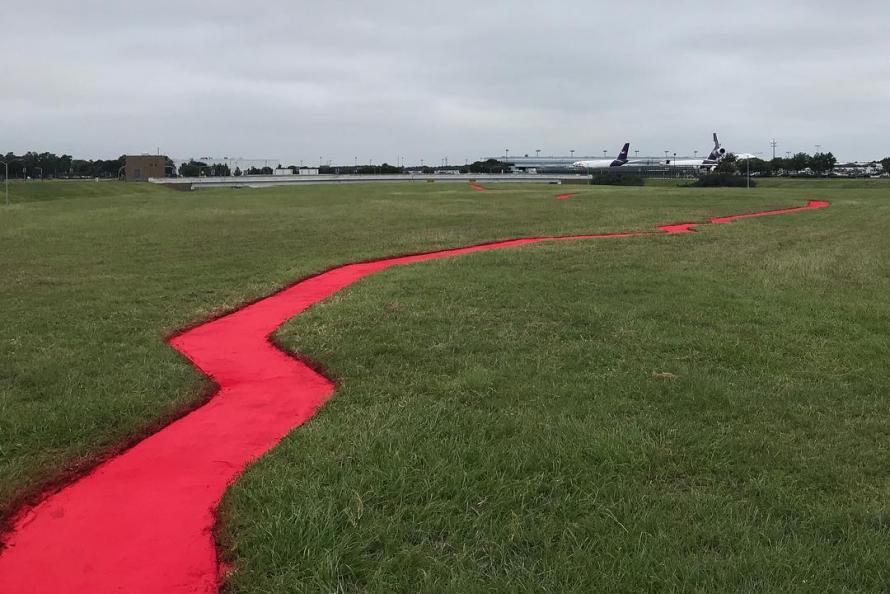 Modern-day slavery.
That is one of the phrases most often used to describe the scourge of human trafficking, among the largest criminal industries in the world and somehow, still vastly underrecognized. The International Labor Organization estimates that there are more than 40 million victims of human trafficking globally, including hundreds of thousands of victims in the U.S. According to recent statistics, more than 300,000 people in Texas are victims of human trafficking, including 80,000 underage boys and girls forced into prostitution. Most of the victims come from Asia, Central America, and Mexico. People see Houston as a hub for human trafficking because of its proximity to the Mexican border, access to the I-10 highway corridor and access to two international airports and one of the largest ports in the world.
Bush Intercontinental Airport (IAH) and William P. Hobby Airport (HOU) both work closely with the Department of Homeland Security to actively combat human trafficking. Houston Airports recently undertook an art initiative at IAH to further raise awareness of this federal crime.
Recently installed at IAH, "Border US-MX, 2018, International Airport Houston" is a 650-foot-long temporary earthwork in the shape of the U.S.-Mexico border filled with red sand. The piece was created by Molly Gochman, a New York City-based experiential artist and activist who works around the world to raise awareness and understanding of issues like human trafficking.
A part of the larger Red Sand Project, "Border US-MX" can be seen from the air and the ground as a red crack in the earth that stretches out into the airfield. The earthwork will be displayed at IAH through the end of January 2019 in an effort to raise awareness – and to help us "think" – to provide inspiration for reflection on such a weighty issue. Gochman's Red Sand Project uses earthwork installations, sidewalk interventions, and convenings to create opportunities for people to ponder and take action against human exploitation.
Human trafficking is still often "hidden" from public view and can literally be in front of our eyes or right around the corner and we not be aware of it. Houston is filled with dozens of strip centers that house massage establishments and nail salons, two such venues which often provide cover for sex and labor trafficking.
Labor trafficking also happens in such industries as factory work, domestic services, restaurants, and construction, to name just a few.
Human trafficking gets people into a country illegally, supplies individuals for the sex trade, supplies individuals to engage in forced labor, and is also used to provide so-called "mules" to transport illegal items such as drugs.
Houston Airports encourages its staff and associates to be vigilant and on the lookout for signs of human trafficking. In October, TSA Agent Fernanda Reyna was given the Heroic Service Award at the annual Houston Friendly luncheon for her recognition and recent rescue of a victim of human trafficking at IAH. Agent Reyna recognized the signs and acted upon them.
Some signs include living with an employer, poor living conditions, multiple people in a cramped space, the inability to speak to individuals alone, answers that sound scripted and rehearsed, indicators of physical abuse, and individuals who come across as submissive or fearful.
Gochman launched the Red Sand Project in 2014 to draw awareness to the horrors of human exploitation. Her unique concept has been featured in every state in the U.S. as well as 70 countries around the world.
Recognition can lead to rescue – keep your eyes open! If you suspect human trafficking, call the National Human Trafficking Hotline at 1-888-373-7888 or text 233733.