PLAN AHEAD: Terminal E Construction Is Underway
February 24, 2021
Content updated on 7/29/2021
WE'RE MAKING PROGRESS!
A big change is coming to George Bush Intercontinental Airport, IAH. Construction has begun at Terminal E to make way for the new international terminal. Houston Airports is working to ensure impacts are minimized to passengers. The passenger's experience is at the forefront of all of our planning. 
Here's what you need to know:
Terminal E departing passengers must now check in and go through TSA security at either Terminals B, C or D. United Airlines will provide passengers with the appropriate terminal check-in location and further instructions.
The Terminal E TSA Security checkpoint is closed.
Parking, Rental Car and Hotel Shuttles will not have access to Terminal E. Passengers will need to go to Terminal D, C, B or A, to access shuttle services.   
For individuals with overburdened and accessibility-challenged passengers, special shuttle services will be available at the Terminal E Arrivals Curbside. This shuttle will loop around all five terminals at Bush Airport.  
---
ONGOING ROADWAY CONSTRUCTION:
In addition to the construction at Terminal E, roadway construction will continue along North and South Terminal Roads. Traffic congestion is likely, especially during peak hours. Houston Airports is issuing the following guidance to ease traffic congestion and planning tips: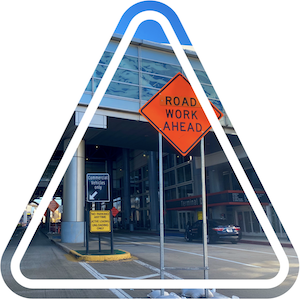 Build in at least an extra hour to your arrival time.
As you approach the terminals, slow down and read the roadway signs. You can get where you need to be by following our signage.
To reduce traffic congestion, please use the cell phone lots on JFK Blvd .and Will Clayton Pkwy to wait for your passenger(s).
Don't crowd the curbs. Terminal curbsides are "Active Loading or Unloading " zones. Parking is prohibited. All traffic must flow and violators may be fined.
---
TERMINAL D/E GARAGE CLOSED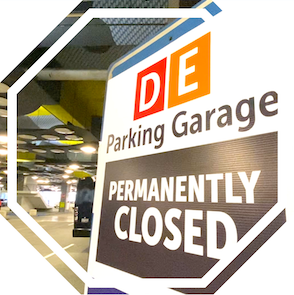 -  The Terminal D/E garage at Bush Airport is permanently closed.
 -   The Terminal D/E garage is being demolished to make way for the new international terminal. All passengers who would normally park in Terminal D/E garage may park in any other terminal garages.
 -   Plan ahead. Guarantee a terminal garage or ecopark parking spot by making your parking reservation online. Link to book online https://iah.booking.fly2houston.com
 -   Passengers parked at any other parking garages can easily access Terminals D and E by using the subway train.
-   Terminal garage parking capacities can be found on fly2houston.com. Bush Airport ecopark lots are also an affordable and convenient option during this time.
---
ABOUT THE IAH TERMINAL REDEVELOPMENT PROGRAM AT BUSH AIRPORT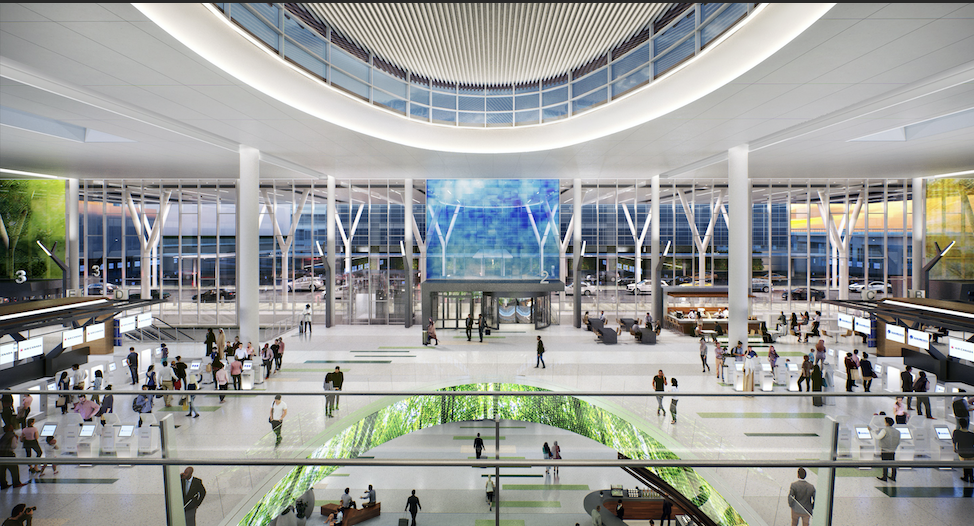 The garage closure, and the eventual demolition, is a yet another milestone for the IAH Terminal Redevelopment Program, the most significant expansion program in the 52-year history of Bush Airport. 
The IAH Terminal Redevelopment Program delivers on the additional international facilities needed to support continued growth in international traffic at the airport. More than 45 million travelers passed through Bush Airport in 2019, including over 11 million international passengers. The pandemic slowed what promised to be a record-breaking 2020 but air travel is on the rebound and Houston Airports continues to prepare itself for the eventual return to 2019 levels.  
Once complete, the new international terminal will feature a modernized ticketing and arrivals hall and will fully support post-pandemic growth in international traffic at the airport, address capacity constraints in the central terminal area, and improve baggage handling system capacity and reliability challenges. Additional international gates will accommodate continued airline growth.