Houston Airport System and Houston First team to launch 'Houston Interactive' digital welcome station at Hobby Airport
November 9, 2017
Page Carousel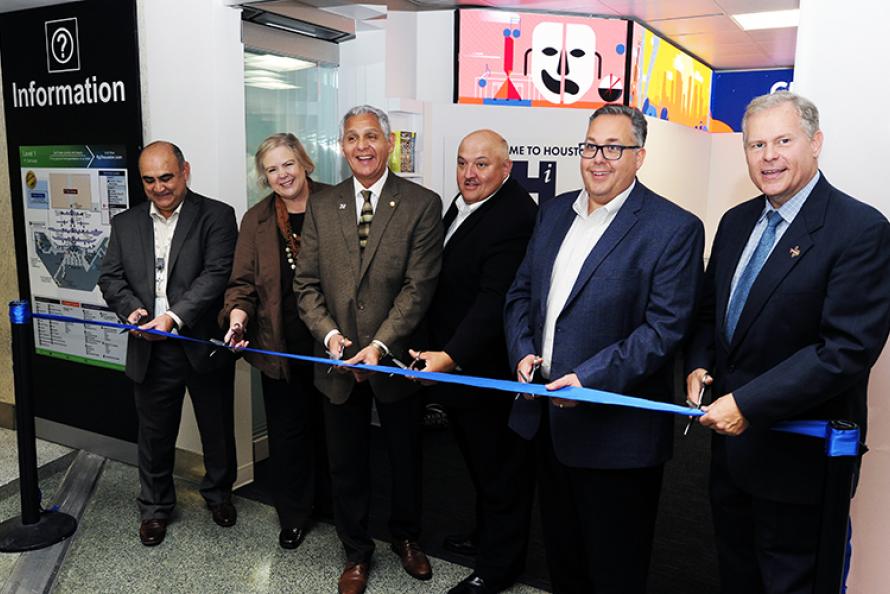 Visitors to Houston coming through William P. Hobby Airport will receive a warm welcome — and a load of useful information — thanks to "Houston Interactive," a technology-driven welcome center based in the former Southwest Airlines luggage office at the airport.
A joint project between the Houston Airport System and the Houston First Corporation, "Houston Interactive" features touchscreen and LED technology that directly engages visitors, delivering a snapshot of the city at their fingertips. The digital kiosk boasts a user-friendly, 55-inch touchscreen interface that enables users to virtually explore Houston's various neighborhoods and diverse offerings at one time. Among the features is an extensive and diverse list of restaurants, as well as a list of arts and cultural attractions and greenspaces. Users also can compile their selections into their unique "My Houston Bucket List" that can be sent directly to their personal email.
"Houston is a vibrant city that welcomes visitors from all over the world every year," said Houston Mayor Sylvester Turner. "From downtown to uptown and every neighborhood in between, our city celebrates diversity and culture through its world-class restaurants and entertainment attractions. 'Houston Interactive' encourages visitors to explore our city and create their own Houston experience."
The "Houston Interactive" center will be fully staffed by Houston First and HAS volunteers. "Houston Interactive" is open daily, 9 a.m. to 7 p.m. Monday through Friday and 9 a.m. to 4 p.m. Saturdays and Sundays.
"Houston welcomes thousands of visitors annually – many of whom are travelling through our airports every day and this center is their first glimpse of the city," said Houston Aviation Director Mario Diaz. "The new 'Houston Interactive' at Hobby Airport is a simple, concierge-like platform that enables quick searches and discoveries, enabling visitors to easily plan their Houston experience before leaving the airport."
The interactive center also offers three iPads for visitor access to VisitHouston, Google Maps, Houston Airport Systems, Houston events calendar, and the Avenida Houston websites. The iPads also provide access to the newly launched Houston Marketplace website, allowing visitors to build a customized itinerary that complements their interests and budget. Visitors can choose from a curated selection of attractions, including tours, museums and bike tours among others and have tickets delivered to their smart phone. "Houston Interactive"' also offers Official Houston Visitor's Guide and Hola Houston guide books, as well as city maps for visitors to take upon arrival.
"As one of the country's largest and most diverse cities, Houston offers visitors a dynamic repertoire of culinary, arts and cultural amenities," said Dawn Ullrich, President and CEO of Houston First Corporation. "The 'Houston Interactive' user-friendly interface will enhance the overall visitor experience, and allow users to easily explore our city and quickly discover lesser-known neighborhoods."