CBP Deploys Biometric Exit Technology at Bush Airport
July 12, 2017
Page Carousel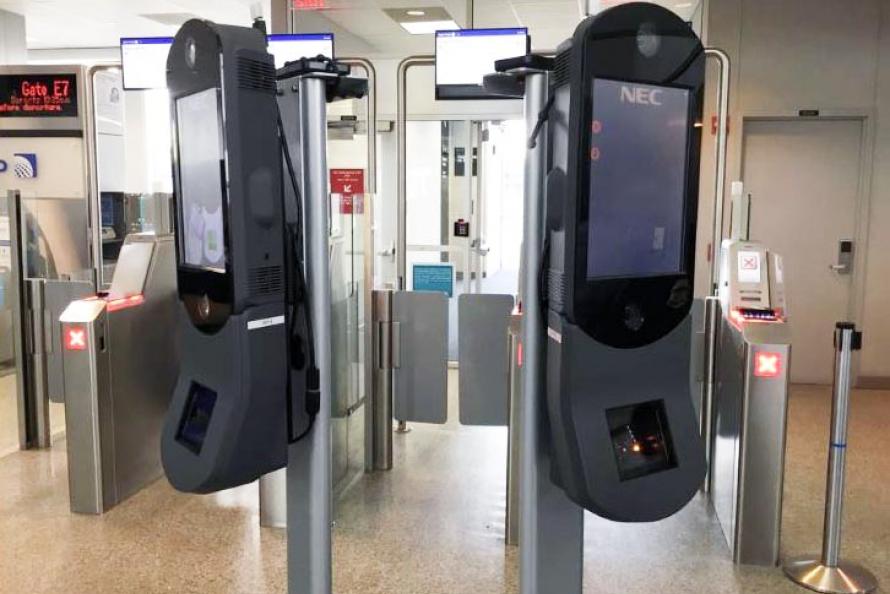 New technology designed to improve safety and efficiency was recently rolled out at George Bush Intercontinental Airport, when U.S. Customs and Border Protection (CBP) deployed facial recognition biometric exit technology for a daily flight operated by United Airlines from Houston to Tokyo. . This state-of-the-art technology detects the exit of foreign nationals from the United States.
Using the flight manifest, CBP builds a flight-specific photo gallery by utilizing passenger photographs from their travel documents. CBP's facial recognition software then compares the photo of the passenger from the gallery to a live photo, in order to ensure that travelers are the true bearer of required documents. If the photo captured at boarding matches a U.S. passport, the traveler — having been confirmed as a U.S. citizen — is automatically determined to be out of scope for biometric exit purposes and the photo is discarded after a short period of time.
"The Houston Airport System enjoys a strong partnership with CBP and is pleased to be a part of the initial deployment of this technology, joining only two other airports in the nation," said Director of International Relations, Željka Momirović.
"Through our consultations with the airlines and airport stakeholders, and based on the success of several pilots, CBP determined that facial recognition was a viable exit solution," said John Wagner, CBP Deputy Executive Assistant Commissioner, Office of Field Operations. "With the expansion of this technology we will be looking at different flights, airports, lighting conditions, and internal IT configurations to demonstrate to our stakeholders that this solution is flexible, reliable and easy for travelers to use."
There are several legislative mandates that direct the Department of Homeland Security to record the arrival and departure of non-U.S. citizens by collecting biometrics. CBP first established biometric screening procedures based on digital fingerprints for certain non-U.S. citizens in 2004 to secure the borders and ensure that foreign travelers who present themselves for admission to the United States are who they claim to be.