Our Story
Houston Airports provides a safe and dynamic air services network that fosters economic vitality for the transportation industry and facilitates a strong level of global connectivity for diverse and growing population living throughout the greater Houston region.
Our Airports
The three-airport system served nearly 54 million and 60 million passengers in 2022 and 2019, respectively. Together, Houston Airports form one of North America's largest public airport systems and position Houston as the international passenger and cargo gateway to the south central United States and a primary gateway to Latin America.
George Bush Intercontinental Airport (IAH)
Located approximately 23 miles north of Downtown Houston
27 passenger airlines
187 non-stop destinations 
More than 40.9 million passengers in 2022
William P. Hobby Airport (HOU)
Located approximately 7 miles south of Downtown Houston
5 passenger airlines
86 destinations
More than 13.1 million passengers in 2022
Ellington Airport (EFD) / Houston Spaceport
Located approximately 15 miles south of Downtown Houston
Supports the operations of the U.S. military, NASA and a variety of general aviation tenants
Home to the nation's 10th licensed commercial spaceport
Houston Spaceport is a focal point for aerospace innovation
OUR MISSION
We exist to connect the people, businesses, cultures and economies of the world to Houston.
OUR VISION
Establish the Houston Airport System as a five-star global air service gateway where the magic of flight is celebrated.
---
OUR HISTORY
1910- Frenchman Louis Paulhan flew the first airplane in Houston, a Farm biplane. About 2,500 people paid $1 to see him fly. 
1928 - The City of Houston opened a Municipal Terminal and hangar at Carter Field. 
1937 - W.T. Carter Field was brought by the City of Houston with a bond issue of $500,000 and $150,000 in cash. The airport, renamed Houston Municipal Airport became Houston's first public airport. 
1938 - Howard Hughes stopped in Houston after flying his new speed record round the world. The City of Houston announced that Houston Municipal Airport will be renamed Howard Hughes Municipal Airport. Howard Hughes remained involved in the airport by making several improvements, such as the construction first airports first control tower. 
1938 - The Howard Hughes Municipal Airport was renamed back to Houston Municipal Airport after the City of Houston learned they would lose federal grant money for naming an airport after a living person. 
1940 -  An art deco air terminal designed by architect Joseph Finger was dedicated at Houston's Municipal Airport. The public toured the new terminal and several airlines. Some people won chances to take local flights.
1942 - Houston's FBO aviation enterprises hanger at Houston Municipal Airport becomes the training ground for the first three classes of Women Air Force Service Pilots, WASPs, in the country. These civilian pilots were employed to fly military planes in World War II. 
1946 - An international wing is added to the airport. 
1947 - Trans Texas Airways makes its first revenue flight. Their headquarters are located in Houston's Municipal Airport.
1950 - Houston Municipal Airport's airline traffic continues to grow at such a rate that it is running out of available facilities.
1954 - The new Houston International Airport terminal is inaugurated in a big two-day celebration with General Ira Eaker as the keynote speaker.
1965 -  Houston International Airport introduces a monorail service to ferry passengers to and from the parking lot to the terminal. It is built by the same company that built Disneyland's, and is the only other public monorail.  
1967 - Houston international airport is renamed William P. Hobby Airport after the former Texas governor 
1969 - Houston Intercontinental Airport opened and all scheduled passenger flights are moved from Hobby Airport to the new airport. The airport consisted of two terminals, A and B. 
1971 - Passenger service is restored to Hobby airport when Southwest airlines moves its operations back from Intercontinental Airport. This begins a tradition of service to smaller and older airports that are closer to city centers.
1981 - Terminal C opened. A parking garage begins to be constructed at hobby airport as airport traffic continues to grow. The parking garage will allow more passengers to fly in and out of the airport. 
1988 -  A preservation program is set up by the City of Houston to stop the further deterioration of the 1940 air terminal. The Houston aeronautical Heritage Society forms to restore and save the historical terminal. The north wing of the museum was opened to the public in 2004. 
1990 - The international arrivals Terminal D was named after Mickey Leeland. The longtime Houston Democrat died in an Aug. 7, 1989 plane crash while aiding famine victims in Africa.
1997 - Houston Intercontinental Airport was renamed to honor George H. W. Bush, the 41st President of the United States.
2003 - Terminal E, phase one, opened. The remaining phase was finished in 2004. 
2015 - Hobby Airport opened its International Terminal. Houston served international destinations from two of its airports. 
2019 - George Bush Intercontinental Airport served a record breaking 59 million passengers. 
2020 - Houston remained the only city in the Western Hemisphere with two Skytrax four-star rated airports. 
2020 - Houston became the only U.S. city to have two airports equipped with biometric boarding and arrivals for international passengers.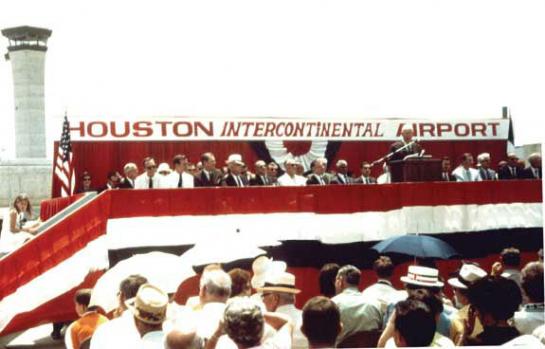 Our Impact
The airfields found at the three airport facilities are capable of accommodating virtually any type of aircraft, even those as large as the Airbus A380, on runways that extend up to 12,000 feet.
While the airports represent a significant contribution to Houston and the surrounding communities' economies, the airport system functions as an enterprise fund and does not burden the local tax base to pay for operations, maintenance or capital improvements.  The Houston Airport System accomplishes financial self-sufficiency by deriving income from fees, rentals, and other charges. Surpluses generated are reinvested into capital development and bond retirement. According to the most recent economic impact study, the three airports collectively contributed more than $36.4 billion (2019) to the local economy and were directly responsible for more than 190,000 jobs.
Human Trafficking Awareness
Houston Airports affirms its commitment to using its best efforts to assist in the fight against human trafficking, in accordance with the City of Houston's zero tolerance policy.  We stand in support of the victims of human trafficking, and we assist in the detection and reporting of all suspected human trafficking activities at our airports.  We do this through promoting awareness and through coordination with our stakeholders and local and federal authorities. 
Anyone suspecting human trafficking activities or who needs assistance should call the National Human Trafficking Hotline at 1-888-373-7888; TTY:711; text the hotline at 233733; reach out to www.humantraffickinghotline.org/chat; use the hotline's anonymous online reporting form at https://humantraffickinghotline.org/report-trafficking; or contact the Houston Police Department by calling 911.