EVOLUTION OF MLIT
The Mickey Leland International Terminal originally opened in 1990 and now carries more than 2.4 million passengers a year. Terminal D currently has 12 gates which house over 13 airlines which, during peak hours leaves Terminal D at maximum operating capacity. The Mickey Leland International Terminal Project is part of the IAH Terminal Redevelopment Program, also known as ITRP. The goal of the ITRP is to resolve current and future roadway and curbside capacity constraints in the central terminal area, improve baggage handling system capacity and reliability challenges, and significantly improve the overall guest experience for every international passenger.
AS A WAY OF ACHIEVING THE GOALS OF THE ITRP THE MICKEY LELAND INTERNATIONAL TERMINAL PROJECT HAS FIVE MAJOR COMPONENTS: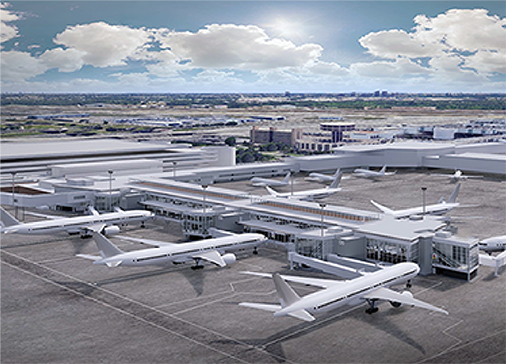 THE NEW FACE OF TERMINAL D
As part of the Renovations/Re-Life Refresh sub-project Terminal D will be refreshed and modernized with expansion to the passenger holding areas. This will relocate the existing ticketing, check-in and TSA security checkpoint to the Terminal E International Central Processor (ICP).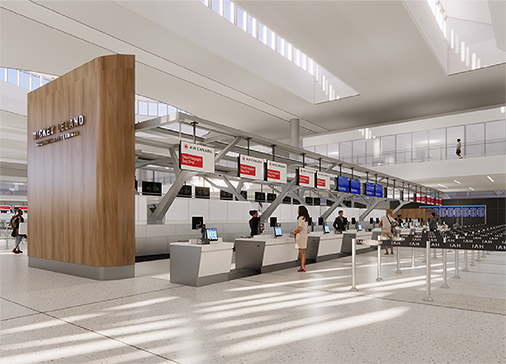 RELOCATION OF TICKETING AND DEPARTURE CURB FACILITIES TO THE INTERNATIONAL CENTRAL PROCESSOR (ICP)
This is a multi-phased effort that will relocate all carriers in Terminal D to the new International Central Processor (ICP). This project is being done in phases to allow the continuation of passenger services.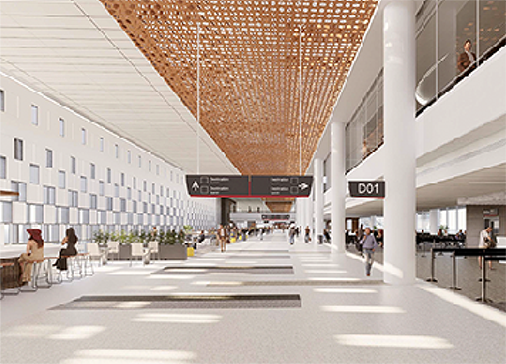 TERMINAL D WEST PIER
In 1968 the Old Terminal C North Pier was put into service and will now be replaced with the new Terminal D West Pier gate concourse. The new gate concourse will be able to accommodate 11 narrow-body or 6 wide-body aircraft once complete. This subproject will also include refurbishing the old Terminal C building and the passenger walkway connecting to Terminal D.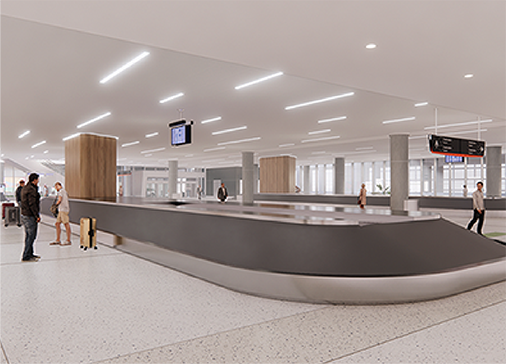 NEW TERMINAL D BAGGAGE HANDLING SYSTEM (BHS)
The new Terminal D Baggage Handling System (BHS) incorporates state-of-the-art equipment and best practices recommended by the Transportation Security Administration's Electronic Baggage Screening Program. The Baggage Handling System includes the latest technologies for cybersecurity, conveyance, tracking, and screening to achieve an efficient and reliable Checked Baggage Inspection System. Additionally, the Terminal D Baggage Handling System will incorporate the International Air Transport Association (IATA) Track and Trace best practices which are proven to reduce mishandling of baggage.
NEW TERMINAL D CHECKED BAGGAGE INSPECTION SYSTEM (BCIS) BUILDING
This new facility will incorporate the latest technologies that provide high-performance and cost-effective baggage security screening solutions. The new BCIS will feature high speed computed tomography (CT), explosive detection systems (EDS) units and advanced software.