Houston Airports Participates in Public Service Recognition Week
Aviators Compete in Basketball Tournament, Ghica and Fannin Recognized by City of Houston
May 27, 2022
The City of Houston joined the nation in celebrating Public Service Recognition Week during the first week of May, honoring the men and women who serve our nation as federal, state, county, local and tribal government employees. The week has been celebrated annually since 1985.
The city hosted several events during the week, including a poster contest; essay contest; several sports competitions, including basketball and kickball tournaments; the Mayor's Service Awards; and the Bravo Awards.
Houston Airports participated in several activities as well. Airports Director Mario Diaz reached out to the Aviators, the Houston Airports basketball squad, to extend his congratulations and admiration for their efforts as they participated in the basketball tournament. Though they fell short of their championship aspirations, the team competed hard and exhibited exemplary camaraderie and set a great example on the court as well as off the court.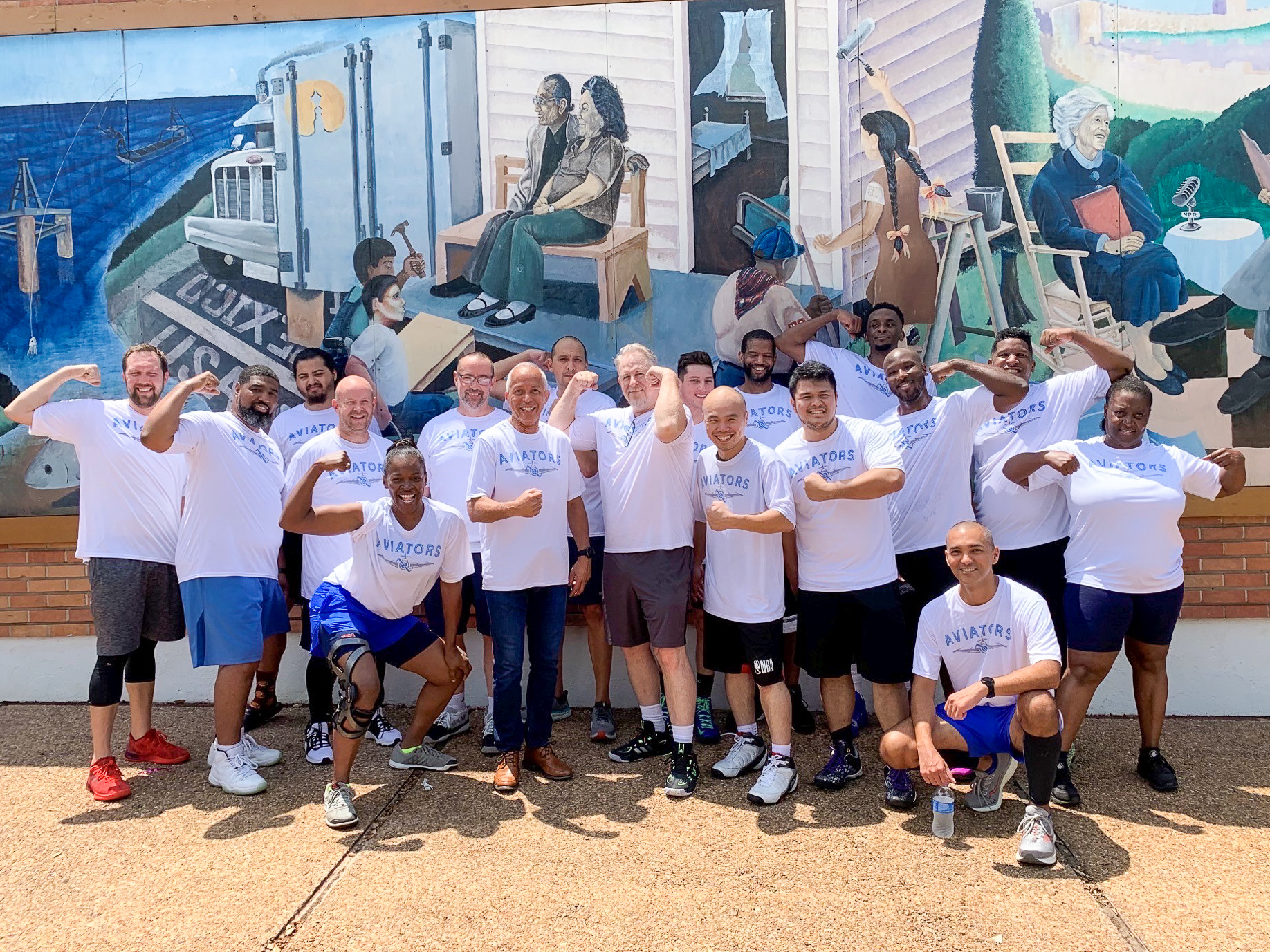 "I didn't want too much time to pass without reaching out to each of you to thank you for so enthusiastically and professionally representing the Houston Airport System in the basketball tournament that concluded this past Saturday in the championship competition," Diaz said. "…I was thoroughly impressed with your skills and teamwork approach to the game…you set a fine example for the kind of culture we want for our department, and I congratulate you for the example you set and the sportsmanship you exhibited."
The weeklong celebrations endeavor to recognize the hard work and best efforts of government employees, collectively and individually.
Viorica "Ella" Ghica, HAS Assistant Customer Service Manager at George Bush Intercontinental Airport (IAH), was recognized by COH Employee News for her inspired service to the community over more than 30 years. COH Employee News is the official page of the City of Houston Human Resources Department.
"I challenge everyone to experience helping people, or to serve in the community and see how it will change the quality of your life," Ghica said. "It's a nice feeling to help and it will make your day better. Sometimes it changes your perspective in life and quite often we realize that our problems might not be as big as we thought. Public service is awesome!"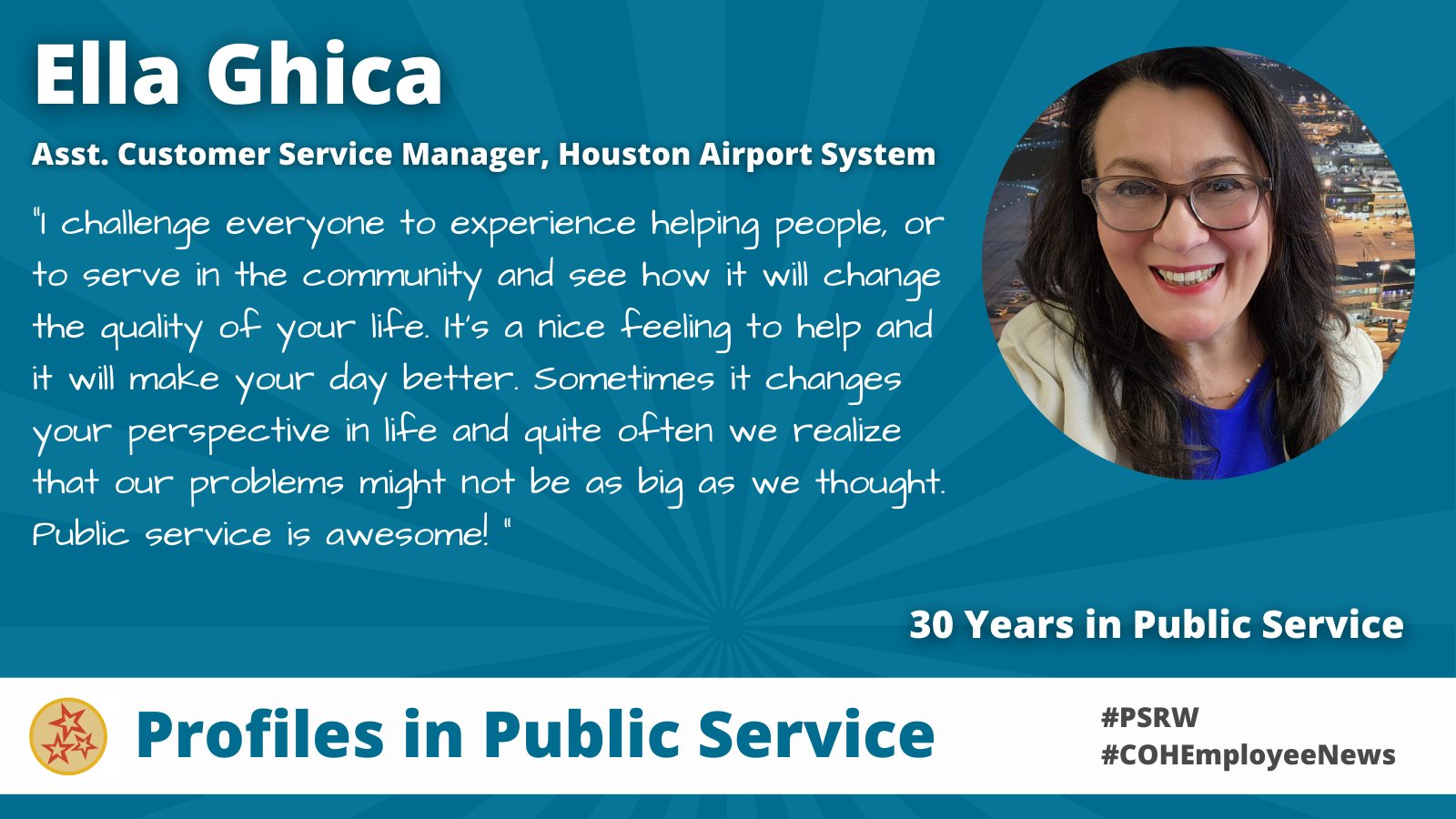 Houston Airports' Stephanie Fannin, Airport Operations Specialist, was also honored during Public Service Recognition with a Bravo Award. As a volunteer foster for the Great Dane Rescue of Southeast Texas, Fannin works to save the lives of dogs in need. After the passing of Duke, her Great Dane, she got involved with rescue work in his memory. Since 2020, she has helped to rescue, foster, and rehabilitate Great Danes in need of a loving home. She has also served as a foster for BARC, the City of Houston's Animal Shelter and Adoption Facility. Fannin's rescue work is saving lives, one dog at a time.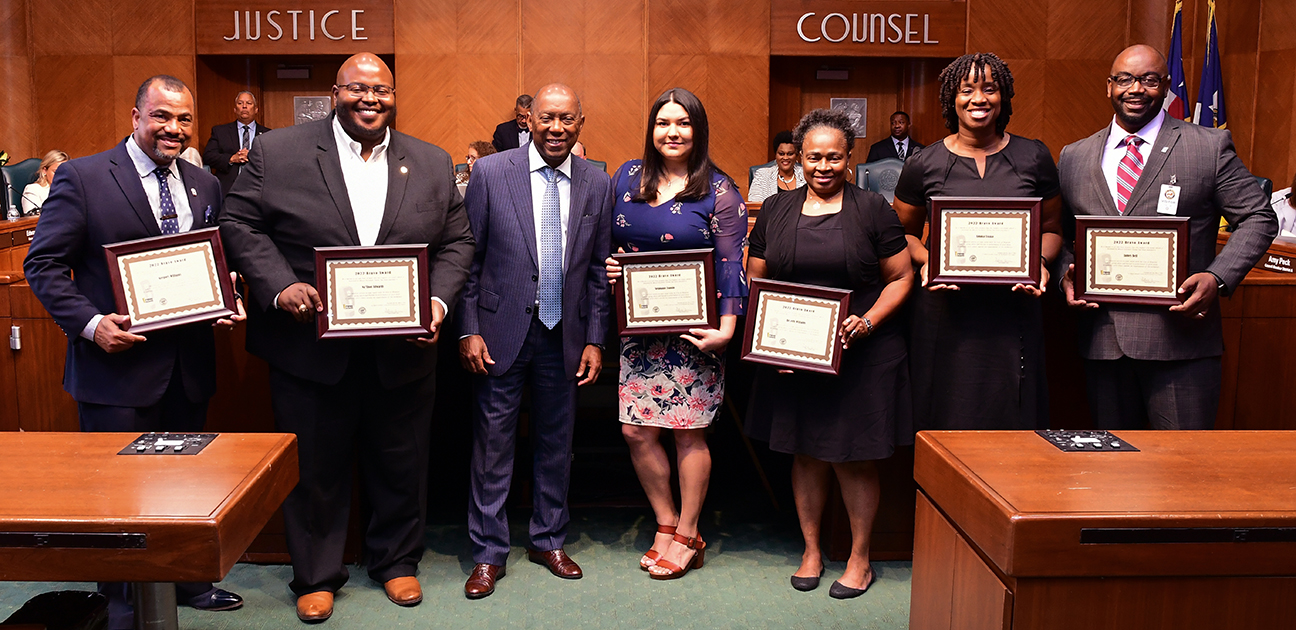 Liliana Rambo, Chief Terminal Management Officer at Houston Airports, said, ""It's not a secret that any great organization's most valuable assets are its employees. Houston Airports has a truly exceptional team that supports the City of Houston and its residents – all dedicated to serving and making life better for others through the gift of travel."
"Public service is a choice, and it's one of the best decisions anyone could ever make."